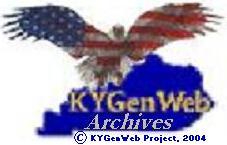 Jefferson County KyArchives
1945 Flood Photos from the "Point", Louisville, Ky
---
Meyer's Pharmacy published a little brown book containing 126 photos. The front cover says 1945 Flood Pictures of the "Point" and the surrounding areas, Louisville, Ky, price 50 cents. Inside the front cover it says, Published by Meyer's Pharmacy, "The Rexall Store", 1335 Story Avenue, Louisville 6, Kentucky.
Page 2: Sunday, Mar. 4, 1945, the river just about hitting 39 feet. The government had 400 German Prisoners of War fill and lay sand bags along the River Road, Fulton Street, and the Cut-Off to hold back the water and protect the Point. A crest of 40 feet was predicted, but engineers thought the sand bags would hold, and they did. BUT at 1:00 am, on March 6th, the rain started again, and it came down hard and fast. By 3:30 am, water was breaking over the sand bags, first at Big Four Bridge, then on Wayne & River Road and the Cut-Off. Police used their sirens to warn people to leave immediately. As is normal, some decided not to leave and had to be rescued later by boat.
The heavy rain was throughout the upper Ohio River. Finally on Thursday the river reached it's crest of 47.1 feet, only 10 feet below the 1937 flood. Spring cleaning came early that year, with inches of mud left in homes and businesses, the ones that were left standing upright.
Page 20, the very last page says, "Meyer's Pharmacy and its Predecessors have faithfully served the Pointers since 1861, and look forward to many more years of continued pharmaceutical service. Meyer's Pharmacy stocks a complete line of Kem-tone and Kurfee's Granitoid Enamels."
---
Photos:
---
---
Copyright ©2006, KYGenWeb Project