&nbsp
Old Cub Run Cemetery (aka Jones Cemetery)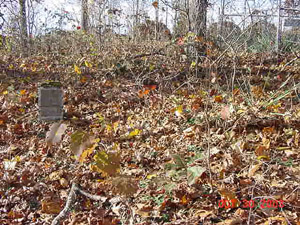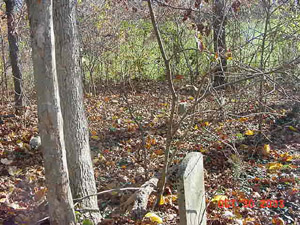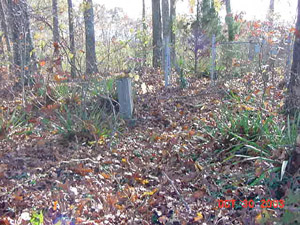 Location: From Hwy 88 at Winesap, take Raymond Smith Rd and go to where the road forks. Take the left dead end road at the fork and go about .1 of a mile. The Old Cub Run Cemetery is on the right in a very dense thicket. Part of the cemetery has a few graves within a chain link fence area, but most of the cemetery is outside the chain link fence. The cemetery is in extremely bad shape as many stones are broken. This is a comlete listing of tombstones as seen on 30 Oct 2003.
The cemetery listing and these photos were provided by Edith Bastin
.

Abbreviations: w/o=wife of; h/o=husband of; s/o=son of; d/o=daughter of; b/o=brother of; m/o=mother of; f/o=father of; p/o=parents of; ossw=on same stone with
Surname

Given Name

Birth Date

Death Date

Notes

Photo

ALW
2
Craddock
Amanda
16 Jan 1851
18 Apr 1914
Stone is broken
1, 3
Craddock
Julia Catherine
5 May 1898
4
Craddock
Willis
6 Mar 1827
16 Feb 1897
5, 6
Craine
William M.
22 May 1890
16 Dec 1918
7
Guest
Sarah M.
17 Jun 1877
8 Jan 1931
8
Jones
Henry Clay
14 Oct 1864
22 Jul 1900
9, 10
Jones
Lena May
17 Apr 1881
21 Mar 1883
d/o T.D. (Thos D.) & J.A.
11
Keith
Rector
4 Mar 1873
29 Jul 1892
s/o George W. & Sabella
12
Kingsley
Willie R.
6 May 1864
10 May 1884
13
Logsdon
Helen
1 Jul 1850
17 Jun 1886
1st w/o J.C. Nee; d/o Robert Appleby & Narcissus R. Amos
14
Logsdon
John C.
21 Jan 1844
19 Apr 1918
h/o (1st) Helen Appleby; h/o (2nd) Maggie Geralds Doyle; s/o William Allen Logsdon & Mary Frances Malinda Wilkerson
15, 16
Meredith
Abraham
Co. __, Infantry (Civil War)
17
Meredith
Minisa Jane Crouch
1816
1898
18
Stinson
Fannie
7 Oct 1912
ossw Robert; "Mother"
19
Stinson
Robert
4 Apr 1853
10 Sep 1938
ossw Fannie; "Father"
19
Jones
Gideon
8 Sep 1848
6 Nov 1883
No tombstone found but I was told he was buried here.
Wilkinson
Anna J.
2 Feb 1868
28 Jun 1888
No tombstone found but I was told she was buried here.
There were a number of sunken areas where graves might have been along with many field-stones and broken pieces of stones that were unidentifiable.
Return to Hart County Archives

Problems or bad links should be reported to the webmaster.
©Copyright 2003-2005 by Sherri Hall for the Hart County, KY USGenWeb Archives. All files on this website are copyrighted by their submitter and creator. They may be linked to, but may not be reproduced on another website or in any other form, without specific permission of the submitter, owner, publisher and this site moderator. Although public records are as such not copyrightable, the manner in which they are presented, including the notes, comments, etc. are. The information on this site is provided free of charge, by volunteers, for your personal use only.