The Schofield Barracks Post Cemetery
Lyman Road
Schofield Barracks, Hawaii 96857
(808) 624-2956

The Schofield Barracks Post Cemetery covering 6.3 acres, is located 011 Schofield Barracks between Wahiawa and Kunia.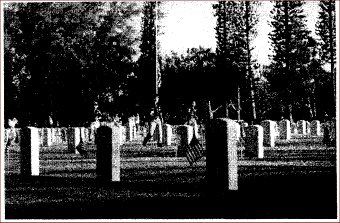 THE CEMETERY. The cemetery was first established in 1912. The early burials were workers building the installation who fell victim to an epidemic sweeping the island.

Today, the cemetery provides burial plots for active duty military members, military retirees. and their bona fide dependents. This affords the bereaved family a fmal resting place for loved ones that is perpetually cared for without cost.

Headstones for burial plots are purchased and installed at Government expense.
Special honors are arranged for Memorial Day. American flags are placed at each burial site by local Boy and Girl Scouts.

VISITING HOURS. The Schofield Barracks Cemetery is open to visitors every day of the year during daylight hours.

BURIAL HOURS. The Schofield Barracks Cemetery is open for burial services Monday through Friday, 9:00-11 :00 a.m. and 12:00-2:00 p.m. Vaults are not provided.

GRAVE LOCATION. The grave location is to assist you in locating the grave of your loved one. A map of the cemetery showing the site and roster of those interred is located in the pavilion at the entrance to the cemetery.

GRAVE MARKER. A temporary marker is used to mark the grave following the interment. A permanent marker will be furnished by the Government. Every effort is made to have the grave marker delivered within 120 days of the interment. Markers are placed as soon as weather and work schedules permit.

BURIAL OF A SURVIVING SPOUSE. A non-veteran spouse of a deceased veteran who remarries is not eligible for burial in the Post Cemetery. Also, a divorced spouse or a spouse whose marriage to the veteran has been armulled in not eligible for burial.

GROUNDS MAINTENANCE. Immediately after each interment, the grave is filled, leveled, and seeded. Until growing conditions are favorable and turf has been established, burial areas may be substandard in appearance because the soil continues to sink after a burial, a new grave requires repeated renovation. After the grave has stabilized, the overall appearance will improve. The cemetery staff requests your understanding. Matters which appear to need immediate, corrective action should be reported to the cemetery office. NOTE: THE PERSONAL MAINTENANCE OF GRAVESITES BY VISITORS (CUTTING GRASS, TRENCHING AROUND GRAVES AND MARKERS, WATERING WITH THEIR OWN HOSE, PAINTING MARKERS, ETC.) IS NOT AUTHORIZED. PLEASE ALLOW CEMETERY PERSONNEL THE RESPONSIBILITY FOR GROUNDS MAINTENANCE.

FLAGS. The United States Flag is flown over the Post Cemetery every day during the hours of cemetery operation. The flag is flown at half staff during interment services and wreath-laying ceremonies. All graves are decorated for Memorial Day by Boy/Girl Scouts and Cub Scouts with small United States Flags.

SCHOFIELD BARRACKS POST CEMETERY FLORAL REGULATIONS 1. Fresh cut flowers, wreaths and sprays in metal (not glass) containers may be placed on graves.
2. Permanent plantings, statues, vigil lights, glass objects of any kind and any other type of commemorative items, including toys (pin wheels, balloons, wind chimes, stuffed toys or any similar articles) are not permitted.
3. Potted plants and artificial flowers will be permitted on gravesites only during the period five (5) days before to five (5) days after Easter Sunday, Christmas Day and "Hana Matsuri" (April 8). They will also be permitted from July 12 to August 15 in observance of "O-Bon". Christmas trees, no matter what size, are not considered potted plants and will not be allowed.
4. Floral items and other types of decorations will not be secured to headstone markers.
5. The religious convention of placing fruits, beverages (except alcoholic beverages), and religious artifacts on graves is allowed.
6. Please contact the cemetery office for information regarding installation of a permanent flower container. Only one container per grave is allowed.

NOTE: Listed below are vendors who sell permanent flower containers. Their names are provided as a matter of assistance to interested persons. The Schofield Barracks Cemetery neither endorses nor recommends the vendors or their products. Please inquire at one of the below listed establishments if you desire to purchase one of these vases.

Woolsey Funeral and Cemetery Services located in Kaneohe, Hawaii. This Company was awarded the contract for handling burials, managing the headstone maintenance, alignments, urns and vases at the Schofield Barracks Post Cemetery. They manage the vase, urn, and headstone memorial installations and also offer a competative line of very affordable high quality products. They have a sister company: Woolsey Mortuary Services, but, they, as Woolsey Funeral and Cemetery Services handle vases and all other cemetery services. (They are a small local Hawaiian family business that has been in the Islands since 1957. They pride themselves on their attention to detail, knowledge and professionalism.)

Stonecraft
Oahu Cemetery
1718 Kahai Street 2162 Nuuanu Avenue
Honolulu, HI 96819 Honolulu, HI 96817
Tel: (808) 847-3944 Tel: (808) 538-1538

The permanent, in-ground vase must consist of an outer sheath set into the ground and a separate vase that fits into the sheath. It must have a positive locking device to prevent the vase from rising when the sheath becomes filled with water. Flower vase owners are advised to clean out debris, allowing the vase to properly seat in the sheath, will prevent vase damage. Vase must be engraved with Plot, Rowand Grave Number. Cemetery staff will install the vase container at no cost. Please be aware the Schofield Barracks Post Cemetery is not responsible for maintaining, replacing or safeguarding the permanent flower vase containers.