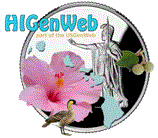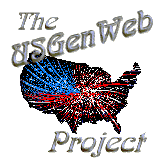 Maui Co., Hawaii Queries, 1997-1998
---
Cheryal Hertling Monday Jan. 19, 1997
Searching for info. on my grandfather, John Frances CAMARA, for 1886 in Paia, Maui. My grandmother, Mary (Maria?) BORGES, bor Makawao, 1887. They were both of Portuguese ancestry.

Messer,Dorothy C. Fri Feb 7 16:16:46 1997
Kamiya emigration from Okinawa approx. 1920 to Kahului, Maui

Dawn Tavares Wed Mar 5 10:23:43 1997
Seeking any information about a church-run orphanage that burned down in the early 1900's; it may have been located on Maui. My great-grandmother, Lucille K. Chamberlain Nott, is said to have been adopted there as a child. Her Hawaiian name my have been Opi'i or Opihi. We don't know what the "K." stands for.

James Zanakis Wed Mar 5 19:22:49 1997
Henry English Maui County 1881 of Dublin Ireland.

Jill Ching Fri Mar 13 16:40: 1997
Mr Chun Ming came to Hawaii with four wives c 1890, and child Virginia Kwan Yuk Chun Ming Ching b 1926

James Rodrigues Sun Mar 23 09:34:38 1997
Grandfather John Rodrigues (parents Manuel Joseph Rodrigues/Maria Joaquina) born August 12, 1888 in Makawao. Seeking information about Makawao or information on family in area. Had two brothers Manuel born in Paia, Joe born in Hamakuapoko. Three sisters Ludwina born in Paia and Maria and Constanca born in Madeira.

Glenda J. Garrison dbggjg@email.msn.com
Subject: Rogrigues Geneology Sunday, April 26, 1998 1:27 PM
I am attempting to put together a family tree for my husband's family. His mother was Muriel Rodrigues born 11/25/1918 in Lahaina, Maui. Her father was Willie Rogrigues born around 1883 in Honolulu, Oahu. His occupation is listed on Muriel's birth certificate as plantation laborer. Muriel's mother was Minnie Lopez , born around 1891 in what looks like "Haiuakuapoho" Maui. Her occupation is listed as housewife. Do you have any idea where I can find birth information or death information on either of these people. Muriel's birth certifiate lists both parents as Portuguese. I am very interested in learning when the family came to Hawaii and any other information that may be available. Thank you in advance for any help you can give me.

Surnames: FRANCO GLASSEN
Submitter: Leilani Glassen Arnold (barnold7@juno.com)
Date: 26 Apr 1998

Looking for information on my family from Maui. My mother's name was Margaret Franco born on island of Honolulu, May 10, 1925, i believe. Married Robert Nolan Glassen. Looking for any information on her family. Thanks, Lani

Surnames: WOODWARD KEAUNUI AH NEE
Submitter: Lei Kealoha-Campbell (Kauau@znet.com)
Date: 27 Apr 1998

I am looking for any info. on my father's biolog- ical father, Noah Kealoha WOODWARD, b.2 Apr 1903 in Honolulu, d.18 Apr 1932 of Pulmonary Tubercu- loisis and buried at Diamondhead Memorial Park Cemetery. I have a marriage cert. showing he married my grandmother, Mary AH NEE, from Hilo,Hi on 30 May 1924 in Honolulu. The cert. states his parents as Edward Kealoha WOODWARD of Honolulu & Mary KEAUNUI of Maui. Noah & Mary had 2 children, 1 daughter, Mary, b.1925 & A son, my father Noah KEALOHA Jr. b.1927. Looking for any family. Mahalo

Surnames: HAPAKUKA PAKANAKA PILA OR BILA
Submitter: Kathy Shimada (hokulani@gte.net)
Date: 30 Apr 1998

Searching for HAPAKUKA, PILA OR BILA, PAKANAKA, PILI. They were originally from Kahikinui, Maui also the Ulupalakua area. Found HAPAKUKA is related to the Pila's. I grew up in the Kalihi area (Democrat St.) about 1950-1963, and there were some Pila's that we played with. I did know that we were related, but how or by whom? That was the question. Would appreciate any info I can get.

Surnames: DAVIS WIENS
Submitter: James R. Davis (james.davis@cbbbs. bungi.com)
Date: 05 May 1998
URL:http://www.genealogy .org/~jrd/ j__jrd.htm

Seek info of all types on Edward E. DAVIS 1909-1971 m.1938 Oahu to Susan C. WIENS and lived on Maui after 1940, mostly in the Wailuku area, with stores in Kahului. Contact: James R. Davis, 6708 Austin Way, Sacramento, CA 95823 Latest e-mail address also at home page.

Surnames: SHAW
Submitter: Melanie Letsos (mletsos@direct.ca)
Date: 25 Aug 1998

Searching for any info on Robert SHAW of unknown location in Hawaii. Supposedly born in Maui. Have been unable to confirm the birth place or date.He married Mary from Sechelt, B.C. They had one child that I know of named Mary Eliza SHAW, born in 1866 or 1867 and died Aug. 11, 1909 in Nanaimo, B.C.Robert SHAW died supposedly sometime before 1900 and was supposedly buried on New Castle Island, B.C.Any info greatly appreciated. Replies to Melanie at mletsos@direct.ca.

Surnames: KAAIHUE CHANDLER
Submitter: Keone K Kaaihue (KKaaihue@aol.com)
Date: 03 Sep 1998

My family was originally from Maui, Kau'po? Father born Hapa to my grandmother ?? KAAIHUE and grandfather ?? CHANDLER? Grandfather CHANDLER might have been in the Navy. My father born out of wedlock and Father David V. KAAIHUE was hanai'd and given the family name. I was born '72, should make my father around 47. Father, David V. KAAIHUE, played football at UH in the late '60's.Henry Kapono KAAIHUE, 2nd cousin?

Surnames: KEPANO HALAKAIPO KANIHO WITTROCK UNNA KUKONAALA'A AHUKINIALA'A FREITAS LONOIKAHAUPU
Submitter: Michele Ignacio (zenwahine@aol.com)
Date: 13 Sep 1998

I am in search of some ancestors mostly based in Hana Maui A woman named HALAKAIPO who died in 1875? who was married to KEPANO who died in Kohala in 1897? Their daughter was called Kukona'ala'a who married a danish man named Frederick WITTROCK, who died in 1913 in Honolulu. If any one connects up with any of these people it would be great to hear from you--the KUKONA'ALA'A supposedly goes back to Kauai to King Kukona, and he links back to Tahiti back in the 1300's. I just have to find all the inbetween links from the Puna line to current--its exciting!

Surnames: TAKEMOTO SEKIOKA
Submitter: Marcia Mau
Date: 16 Sep 1998

Looking for information on my greatgrandparents Naojiro TAKEMOTO and Yumi SEKIOKA TAKEMOTO who immigrated from Yamaguchi, Japan in 1894. At the time of the 1900 Census they lived in Wailuku. They later moved to island of Hawaii.

Surnames: CHANG CAYONA KAYONA RICO SAJULGA KALUNA-HOOMALU BENIALESATAY LEHUA
Submitter: Barbara Rico (pakalanalei@hotmail.com)
Date: 01 Oct 1998

Researching family connections for my hubby's/my family. If anyone researched ship passenger manifests arriving in Hnl from Phillipines in 1920's or from China in 1897 and encountered names of SAJULGA, CAYONA,KAYONA,RICO or CHANG KEE CHIN, please contact me. All families settled on Maui. CAYONA,KAYONA,SAJULGA, RICO were plantation workers on Maui(Hana,Keahua,Puunene,Camp8). CHANG,CHIN KEE lived on Oahu, moved to Hana Maui. He died 1951 and buried at the Hana Chinese Cem. Any info is appreciated.

Surnames: NEEDHAM CAMACHO KAMALII ENAENA WHITFORD KILA
Submitter: Gerlynn Leialoha Silva ( gerlynn@gte.net)
Date: 10 Oct 1998

Searching for info on any of the following surnames: NEEDHAM, CAMACHO, KAMALII, ENAENA, WHITFORD, KILA. All information I have indicates that most of these families came from Maui to Oahu and died here.

Surnames: KELIINOI LANCASTER ALLANCASTER ALLENCASTER YATES (CAPT. JOHN)
Submitter: Tom Keliinoi (tk@qualcomm.com)
Date: 26 Nov 1998

Looking for KELIINOI on Maui circa pre - 1900. Possibly Waihee or Waiehu.Parents of Emily and Samuel (1872-1931). Also looking for LANCASTER or ALLANCASTER of England, possible father of Samuel.

Maui County Archives Menu