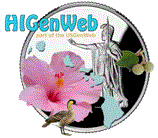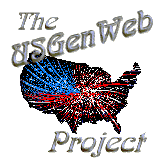 Hawaii Co., Hawaii Queries, 1996-1998
---
Robert Jensen Sat Oct 26 20:44:57 1996
I searching the surnames, Mackenzie, Forbes, & Lee from Hilo, Volcano, Punaluu and Mountain View Hawaii

DeWanna Lindo Sun Nov 17 21:53:42 1996
I am looking for info on the following families. Alfred Lindo-- came from Azores to Hawaii Cathrine DeLima Pedro Paragoso--came from Philipines to Hawaii in the 1920's Thanks for any help.

DeWanna Lindo Wed Nov 20 22:02:22 1996
I am researching my husbands family. I have an Antonio Pereira Lindo aka Antone Lindo Pereira, born in Madeira in 1859. He married a Maria DeLuz aka Maria Rodrigues who arrive in Hawaii in 1883, her parents were Manuel Jocinto Rodrigues and Ramona? It is told that Maria had to use another last name to sneak into the country. A lot of the Pereiras changed their names to Perry. Some went to Hawaii and California. I would appreciate any info on these families.

John D. Bennett Fri Nov 22 16:36:00 1996
I am looking for any information on David W. A. Kahookano born abt 1865 in North Kohala, Hawaii and who died on Feb. 8, 1900 in Honolulu.

Mae (Nani) Schwartz Fri Dec 6 19:45:19 1996
Alfred TODD,c.1850 -?,(g-grandfather), married first Ellen WOODS,c.1835- 1881. Married second Louise Catherine LEWIS, c.1857-1890,(g- grandmother) in Hilo, HI c.1881. Seeking information on ancestors, siblings, and descendants. Any help will be appreciated.

Mae (Nani) Schwartz Fri Dec 6 20:14:05 1996
Robert BELL c.1791-?, m.Katherine PINKERTON c.1795-? (ggg-grandparents). Believed to be residents of Scotland. Son Nathaniel William BELL 1817- 1893, immigrated to HI, island of Hawaii, and m.KIPIKANE c.1820-?. Known children were William BELL 1844-?, Rebecca BELL 1845-?, George Alexander BELL AKA Thomas Kamukamu BELL 1846-1916, and John BELL 1847-?. Seeking information on ancestors, siblings, and descendants of this family group. Any and all help will be appreciated.

Mae (Nani) Schwartz Fri Dec 6 20:27:07 1996
KIHEI c.1801-?, m.KUMANO c.1805-? (ggg-grandparents). Natives of the island of Hawaii and parents of KIPIKANE (above). Seeking information on ancestors, siblings, other children, and descendants. Any and all information will be appreciated.

Mae (Nani) Schwartz Fri Dec 6 20:41:50 1996
George Alexander BELL AKA Thomas Kamukamu BELL 1844-1916, m.Ane KALEIMAMAHU 1845-1893 (g-grandparents). Natives of the island of Hawaii and parents of Eliza K. BELL, my grandmother. Seeking information on the ancestors, siblings, other children, and descendants. Any and all information will be appreciated.

Dawn Crowley Sun Dec 8 16:17:32 1996
Seeking further info re: my ggrandfather Joseph DOPKUS and his brother Stanislass/w DABKUS (AKA "Stan"). They were both b in Lithuania abt 1865, then travelled to Pahala Plantation via Germany (probably under assumed names-they left illegally). They arrived in HI in 1886 or late 1900, according to differing family traditions. Joseph reportedly killed a man on the ship on the way to HI while wrestling with him, and was not charged in the incident. Stanislass mar a Hawiian-born Portugese woman named Mary SOARES (AKA Cozy). They all left HI for the San Francisco area in 1904. No mar rec was found for Cozy & Stan. No nat rec has been located.

Patrick Ka`ano`i Mon Dec 16 18:28:59 1996
I am looking for information regarding the parents of David K. Ha`o (Hao)(husband) and Sarah Ua (wife) parents of David Ka`ano`i Ha`o my grandfather.

Jammie Fear Mon Dec 23 14:02:37 1996
I am searching for information on the family Torres. My granmother was Helen Marie Torres. Her sister is Annie. They both died in San Francisco, but were born in Hawaii. They left two brothers in Hilo. They also have a brother, Angelo Torres in San Jose, CA. These people were born in the late 1800's. One on their parents came from Puerto Rico, and the other was full blooded Hawaiian. Thanks for any info on this family.

Linda Han Thu Jan 9 12:10:01 1997
Am searching for information on my husband's family, grandfather Young Ki HAN, who immigrated to Hawaii from Korea 1903. He married a Hawaiian girl, Elizabeth PAPA, whose family supposedly lived on the big island.

Robert Jensen Sun Jan 12 09:10:55 1997
I am also researching the surnames Holck, Pokeo, Lee/Norway. Peter Lee was manager of the Volcano House from 1891-1898. Peter Lee came from Norway to Punaluu, Hawaii. Jacob Martinius Holck came from Bergen, Norway to Honolulu than Punaluu, Hawaii. Mary Ann Pokeo was a native Hawaiian. Any information would be very much appreaciated.

Elizabeth Stondall Sat Jan 25 18:52:37 1997
Searching for any info on Julia De Jesus Camara (Combra) last known to be in Honokaa early 1930's. She had 3 daughters, Maria, Lucinda & Virginia.

Robert Hookano Fri Jan 24 14:14:07 1997
I am looking for any information on my grandfather Robert Awong (or Robert Hookano). He was in the merchant marines. He was born and lived on the Big Island until he joined the merchant marines during WWII. He was in his early thirties when he died in Stockton, CA. My father was young when he died, so any information regarding my grandfather would be very much appreciated. He came from a big family; Nellie, Thomas, Henry, are a few of the names I remember. Thank you for any help.

Lin Palmer Fri Feb 7 16:23:55 1997
I am in the process of researching my family's genealogy and am contacting you hoping that I may be able to find some "lost" ancestors. Thanks for taking the time to read this; I appreciate any help. Are any of the following names/dates/locations familiar? Isabella Agnes deMELLO (my mother) born: 14 November, 1914 in Hilo, HI her parents: Jacintho deMELLO born: 26 May, 1883 in Kilauea, Kauai, HI died: 03 November, 1963 in Honolulu, HI and Victoria daSILVA born: 12 October, 1882 in Hilo, HI died: 14 November, 1963 in Honolulu, HI. Jacintho deMELLO's parents: Julio Faveres deMELLO and Anna Julia, immigrated to HI from the Azores in September, 1882. Julio and Anna's children in order of birth: Jose, Alfredo, Jacintho, Benjamin, Caesar, Emil, Ida. Victoria daSILVA's parents: Joseph SILVA and Gloria CUNHA. Victoria and Joseph's children surviving childhood in order of birth: Matilda, Catherine, Isabella Agnes, Emily.

Olivia Maile Milton Tue Feb 18 17:30:44 1997
Looking for info on my grandmother Nellie Wahinealii KAMA b.abt 1895 in Hilo, HI. I would like to know her date of death, where she is buried, and her cause of death. I have been told that she died around the late 1920's from complications of childbirth. I would like to verify that her father's Christian name was David. I would also like the name of her mother, as well as where they are buried. Any and all information would be greatly appreciated.

Gerri Serrano Mon Feb 24 10:57:17 1997
I am looking for anyone with the surnames of CAMARGO, CAMBALIZA, PIKINI, RAMOS. I think some came from Hilo and some from Honolulu. Anyone with these surnames, or anyone knowing anyone or anything about these surnames, please, please let me know. I have not had any luck with any of these names. All ancestors are from Hawaii, Puerto Rico and the Philippines. Some have moved from Hawaii to San Francisco as well. Please help. Also, if I can help anyone in CA please let me know. I live in Milpitas, CA near San Jose. Thanks Gerri.

Ethelynne Soares-Teves Tue Mar 11 19:55:13 1997
Looking for information regarding my great-great grandparents, Namauu KUAMOO b.abt 1857 d.1918 m.Louise KAIEWE b.abt 1845 d.1928. Both lived their entire lives in Waiakea, Hilo, T.H. Louise's father is listed as KAIANUI on her death certificate, and her mother as KAHALEKAA. Mahalo for your time.

Laurie Pelayo Sat Jun 14 17:59:49 1997
Looking for the ancestors or descendants of August(Augoost) de Silva and his wife Virginia Ferriera. He was born in Honolulu 8 Aug 1886, Virginia 14 oct 1890 in Hilo. His parents were Joao Joaquim de Silva and his mother Constantina. Virginia's father was Antone Ferriera and her step- mother Anna de Jesus Fustina. Their families both originated in Portugal. Their children: Manuel, David, Isabella, Alice, Margaret, Annie, Carlina, Cecilia, Albert, Clarence and Mary. Any information would be greatly appreciated!

Surnames: STARKE HOSS
Submitter: Bonnie Miller Date: 24 Apr 1998

HOSS/STARKE Sometime between 1885-1905 my grand- mother lived on a sugar plantation near Hilo. Her uncle STARKE was a chemist there. Any help or sources of plantation documents appreciated. I lived on the campus of Kamehameha Schools for many years and had a cabin in Honokaa.

Surnames: WOODWARD KEAUNUI AH NEE
Submitter: Lei Kealoha-Campbell (Kauau@znet.com)
Date: 27 Apr 1998

I am looking for any info. on my father's biolog- ical father, Noah Kealoha WOODWARD, b.2 Apr 1903 in Honolulu, d.18 Apr 1932 of Pulmonary Tubercu- loisis and buried at Diamondhead Memorial Park Cemetery. I have a marriage cert. showing he married my grandmother, Mary AH NEE, from Hilo,Hi on 30 May 1924 in Honolulu. The cert. states his parents as Edward Kealoha WOODWARD of Honolulu & Mary KEAUNUI of Maui. Noah & Mary had 2 children, 1 daughter, Mary, b.1925 & A son, my father Noah KEALOHA Jr. b.1927. Looking for any family. Mahalo

Surnames: KIM KOO YEE
Submitter: Christine Fung (cfung@vvm.com)
Date: 14 May 1998

We are looking for my husbands Great Grandparents. The Information we have is very little. KIM, Kyung Wha came from the North Korean Mountains and KOO, Bok Cho came from Seoul. They came to the Big Island around the turn of the century, possible as late as 1905. They had three children, Helen, Harriet Soonie and Ho Kyung. We know that at one time they lived in Hawi. We are looking for relatives or any information when they came to the US, also their date of births and deaths.

Surnames: MATSON
Submitter: Bruce Matson (bmatson@lookingglass.net)
Date: 28 Feb 1998

Looking for descendants of William MATSON, b. 5 Jul 1845, d. 26 Oct 1914 in Bethany (Lincoln), Lancaster Co., NE, buried in Ohiowa, Fillmore Co., NE with first wife Martha J. Riley. They had two children - 1. Charles E. MATSON, b. abt. 1874 in Dodge County, NE and Floyd E. MATSON, b. 1883 in Thedford, Cuming Co., NE. In his father's 1914 obituary, it said Floyd was the proprietor of a newspaper in Hilo, Hawaii. Did he marry? Did he have children? Any information? I have hundreds of other Matson ancestors for any other researchers.

Surnames: AH NEE HALEKEALOHA
Submitter: Reuben Naholowaa (kaiapa@hgea.org)
Date: 15 May 1998

Would like to contact the descendants of George (?) AH NEE and Elizabeth HALEKEALOHA who lived in the Honuapo, Naalehu area of the big island during the early 1900's. I have been told that they ran a small store in the area and had two children named Ah Chin and Kaohu. Elizabeth HALEKEALOHA was my maternal great-grandmother and I am interested in updating her list of descendants. She was born in the 1860's in Kaupo, Maui and died about 1910 or 1911 and was buried on Maui. Any information would be greatly appreciated.

Surnames: JARDIM
Submitter: Karen Forbes (jimdein@erols.com)
Date: 10 Jun 1998

Looking for my husband's family: Antonio Gomes JARDIM (later changed to Jardin/Jardine) (born 1851) came from Madeira to Hawaii in 1883 with wife Augusta Maria (Camacho) Gomes Jardim and children: Joao (John), Emily, Augusta, Antonio (aka Deigo and Duke) and Mary. Settled in Hilo. Also had Julia and Anthony there. Antonio Jr. (born 1876) (aka Deigo and Duke married Georgina Costa (daughter of Jacintho Costa and Maria Augusta do Rego da Silva) in 1909 in Hilo. Duke and Georgina Jardin had: Jacintho (aka Jesse), Helen, Hilda, Minnie, Walter, Eleanor, Edwrd and Harold. Both families moved to Oakland, California, in 1905 and 1933. Looking for any relatives, info and what happened to other members of the family in Hawaii and California.

Surnames: ANTONE DE SOUZA ISABELLE DE SOUZA ISABELLE CROUCH
Submitter: Pat Branson (ptbb@swbell.net)
Date: 20 Aug 1998

I am looking for info on Antone & Isabelle de Souza, originally came from Portugal, had 10 children. In 1910 they lived in Hilo in the South District. In 1920, they had 8 children, the other 2 being born between 1910 and 1920. Children names to the best of my info, Ida, Mary, Alice, Antone Jr., Isabelle, Emily, Concepsion (Constance) Manual(possibly known as Thomas in his later years. 1910 shows son Sylvester, this name I his name I haven't heard of. "Thomas" was living somewhere in California in 1973, Alice was living in Detroit Michigan in 1973 and Isabelle was living in the Paola Kansas area at this time. She died in 1973. Isabelle was born 9-14-09 and married a Charles Andrew Crouch, they had 3 children and they came to the mainland shortly after the bombing of Pearl Harbor.The living family I have contact with don't know much about their grandparents,Aunts or Uncles. To the best of my knowledge, all of the other children stayed in Hawaii. Would appreciate any help given. Thank you.

Surnames: CAZIMERO CASIMIERO DE SOUZA MOOKINI KUAMOOMOOKINI LAPA
Submitter: Rodney Cazimero (Heloke@aol.com)
Date: 21 Aug 1998

My query is in two parts, my Portugese side and the Hawaiian side. CAZIMERO - through the Portugese Historical Society in Hawaii it seems my Great Grandfather originated from Maia, Sao Miguel however, his surname was CASIMIERO, Antonio. He arrived in the Islands on Apr 30, 1881 on the High Flyer II. Seems he married DE SOUZA, Mary. Would appreciate more info of when he moved to the Big Island in the small community of Niulii or any new info. MOOKINI - I was brought up by my Grandfather, Heloke. As far as I know he had 3 brothers, Dan, Dewey and Pekuela. Their father and mother were, William Oliver

Surnames: REINHARDT MACY
Submitter: Christine Fung (cfung@vvm.com)
Date: 11 Oct 1998

REINHARDT, Julius, from Germany, living in Hilo, m. Tamer GANDALL, he died 7/30/1904 in Hilo.Their children are: Emma, Thomas, Otto, William, Harriet, Fidelia,Johny, George and David. If you have any information on this family,or on the Benjamin MACY family, can please get in touch with me. I am happy to share.

---
Hawaii County Archives Menu