War of 1812 Veteran
The Simple Grave of Barney Meaders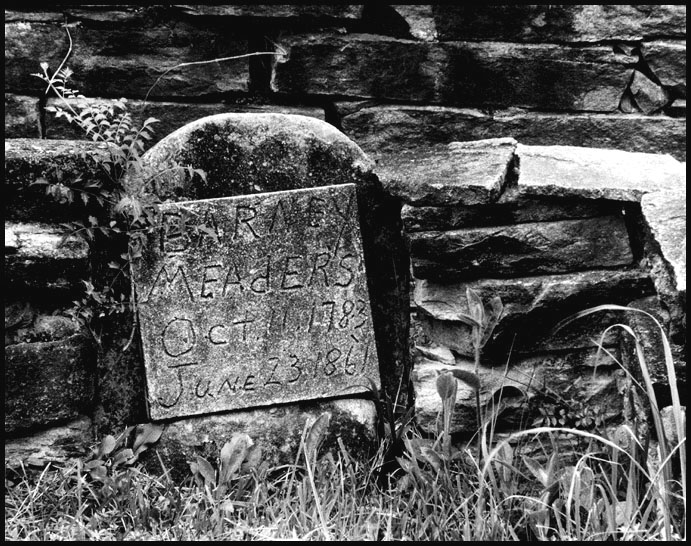 Barnabas Meaders was born 11 Oct 1783 in North Carolina, the son of John and Molli (Justice) Meaders.

He married Jane Garrison Sept 20, 1805. They resided in Banks County, Georgia (formerly Franklin) near Mt. Pleasant on Little's creek. He and Jane had ten children; four sons and six daughters.

He was a private in "Capt. Thomas F. Anderson's Co. of Riflemen, Lt. Col. William Jones' Battalion Detached Georgia Militia". There were three muster rolls and one company pay roll from which the information was taken. The muster rolls show that he commenced service 21 Nov 1814 and stayed until 21 May 1815.
The distance from his residence to the "rendezvous" (presumably Ft. Hawkins) was 130 miles and another 130 miles back to his residence which took 17 days to complete roundtrip. For his service he was paid $8 per month and $.18 for rations. For 6 months and 1 day of service he received a total of $48.26 for pay and $1.53 for rations.
Land Bounty Applications on-line

He died June 23, 1861 near Homer, Banks County, GA. Barney and his wife, Jane, are buried in Mt. Pleasant Methodist Church, Banks Co., GA.

The photograph was taken by:
Charles Freeman : Photographer/ Artist
139 Freeman Drive
Hartwell, Ga 30643
Email address: ncfii@hotmail.com

Copies of this photo may be ordered from Mr. Freeman.
USGENWEB NOTICE: In keeping with our policy of providing free information on the Internet, this photograph may be used by non-commercial entities, as long as this message remains on all copied material. This image may NOT be reproduced in any format for profit or for presentation by other persons or organizations.
Persons or organizations desiring to use this image for purposes other than stated above must obtain the written consent of the contributor. The photographer Charles Freeman has given permission to the USGenWeb Archives to store the photo permanently for free access.
The submitter John Davis has given permission to the USGenWeb Archives to store the textual information permanently for free access.



Return to the Georgia USGenWeb Archives