Benjamin Hawkins Markers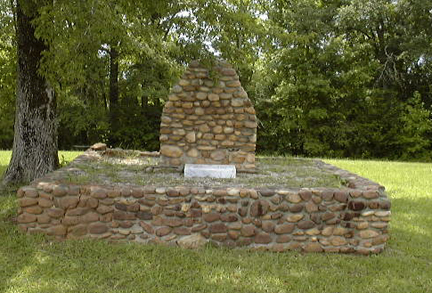 Benjamin Hawkins Grave
This grave is located on Benjamin Hawkins Road, about 1/4 mile north of the Taylor County Line off GA Highway 128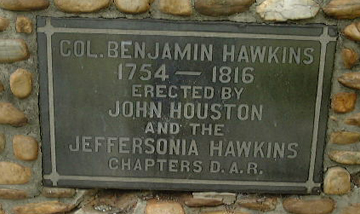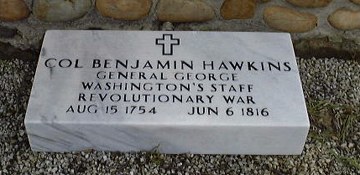 From the Crawford County Sesquicentennial Book Benjamin Hawkins(1754-1816) was the first white man to settle in Crawford County. Along with two others, he was appointed commissioner to the Southern Indians in 1785. As Indian Agent he helped write the treaties of Golphington, Hopewell, and Coleraine. He kept peace between the Indians and white settlers for 16 years. The coming of the War of 1812 in which the British stirred up the Indians was the only thing that disturbed this peace.

There were many skirmishes between Indians and the settlers. Fortunately the settlers of Crawford County never has war on their homeland. Since Benjamin Hawkins had lived at the Old Agency from appromixately 1800 - 1816, friendlier relations were established here.

Although the Creek Indians were drawn into the War of 1812, Hawkins' influence with the local tribes was sufficient to keep them virtually out of the conflict and Crawford County was freed from frontier danger and warfare.

On the Indian Agency on the banks of the Flint River, Hawkins established Fort Laurence on the west bank and a model farm on the east bank. On this farm he raised crops and animals to show the Creeks how to make a better living.

Restoration of Benjamin Hawkins' grave was begun by a Boy Scout Troop from Macon, Georgia. Local interested citizens have been instrumental in the upkeep of the grave site. Legend has it that Hawkins' faithful old servant and a favorite dog were buried at the same site.

The publication, Taylor County Tracer, vol 7 issue 6 June 2002, has extensive information about Benjamin Hawkins, his work and his family.

Also on-line visit http://www.rootsweb.com/~gataylor/forts.htm#hawkins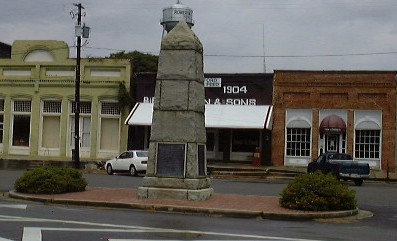 Benjamin Hawkins Memorial
This monument is located at the corner of Wright Avenue and Agency Street in Roberta.

Perhaps the greatest civic event ever occurring in Roberta was the unveiling (in 1931) of the Monument to Benjamin Hawkins, who died in 1816.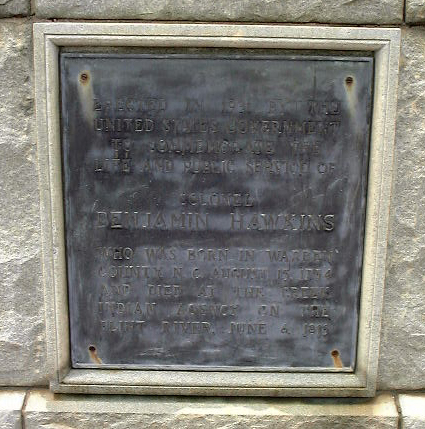 Erected in 1931 by the United States Government to commemorate the life and public service of
Colonel
Benjamin Hawkins
who was born in Warren County N.C. August 15, 1754 and died at the Creek Indian Agency on the Flint River June 4, 1816.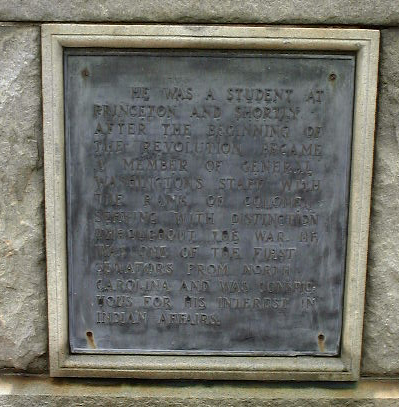 He was a student at Princeton and shortly after the beginning of the Revolution became a member of General Washington's staff with the rank of Colonel serving with distinction throughout the war. He was one of the first senators from North Carolina and was conspicuous for his interest in Indian Affairs.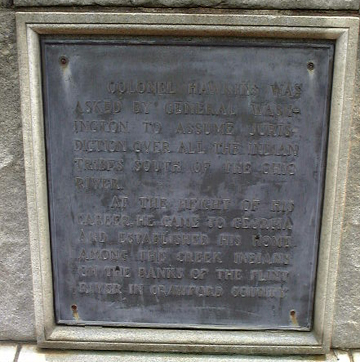 Colonel Hawkins was asked by General Washington to assume jurisdiction over all the Indian Tribes south of the Ohio River.
At the height of his career he came to Georgia and established his home among the Creek Indians on the banks of the Flint River in Crawford County.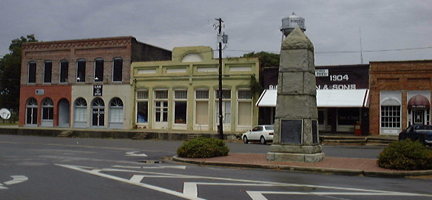 He built the fort which was named in his honor on the Ocmulgee River at Macon and lived there while the Fort was being erected, but his permanent home was at the Creek Agency.
His body lived on a bluff overlooking the Flint River where he lived among the savage tribes for 16 years. A man of letters, mediator of peace and faithful unto death.
---


Copyright. All rights reserved. http://www.usgwarchives.net/copyright.htm

This file was contributed for use in the USGenWeb Archives by: Ed Gordon



Return to the Crawford County, Georgia Digital Library