Creek Agency Marker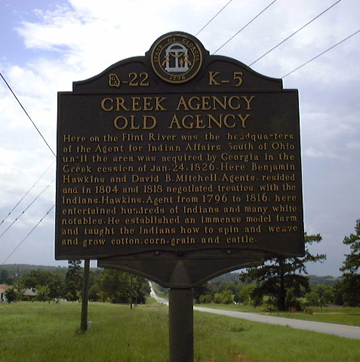 Creek Agency Marker
Here on the Flint River was the headquarters of the Agent for Indian Affairs South of Ohio until the area was acquired by Georgia in the Creek cession of Jan 24, 1826.

Here Benjamin Hawkins and David B. Mitchell, Agents, resided and in 1804 and 1818 negotiated treaties with the Indians.

Hawkins, Agent from 1796 to 1816, here entertained hundreds of Indians and many white notables. He established an immense model farm and taught the Indians how tospin and weave and grow cotton, corn, grain and cattle.

This Creek Agency Marker is located in Crawford County, on GA Highway 128 about 1/4 mile north of the Taylor County line.

For more information on Benjamin Hawkins and Fort Hawkins see this page.
---
USGENWEB NOTICE: In keeping with our policy of providing free information on the Internet, this photograph may be used by non-commercial entities, as long as this message remains on all copied material. This image may NOT be reproduced in any format for profit or for presentation by other persons or organizations.
Persons or organizations desiring to use this image for purposes other than stated above must obtain the written consent of the contributor. The submitter has given permission to the USGenWeb Archives to store the file permanently for free access.

This file was contributed for use in the USGenWeb Archives by: Ed Gordon

Return to the Crawford County, Georgia Digital Library