William Bartram Trail Marker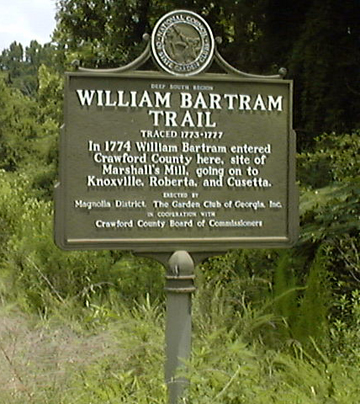 William Bartram Trail Marker
This Marker is located on Marshall Mill Road. 3.7 miles east of Knoxville on US 80 then take a right on Sandy Point Road for 7.1 miles, take a left on Marshall Mill and go .4 miles. The marker is on the right just before the bridge.

William Bartram (1739-1822) was a Quaker naturalist who explored the South before the Revolutionary War. His writings provide history of the times when Cherokee, Creek, Seminole and Choctaw tribes lived in this area.

It is thought that he and his party followed an old Indian Trading Path running from Augusta (Georgia) to Macon (Georgia).

It is believed that Bartram crossed the Flint River near the Old Indian Agency where Benjamin Hawkins was the Agent.

The marker is placed at the Bibb/Crawford County Line where he entered Crawford from Bibb on his trek west crossing Echeeconnee Creek.
"From there to the Chattahoochee he traveled through Taylor County, north of Butler, northern Marion County and, keeping south of the Upatoi Creek, Chattahoochee County, he crossed the Chattahooche River 'with the cheerful and liberal assistance fo the Indians' near present Chambers Landing and continue on his way toward Mobile (Alabama)"
Taylor County Tracer, Vol 7 Issue 6, June 2002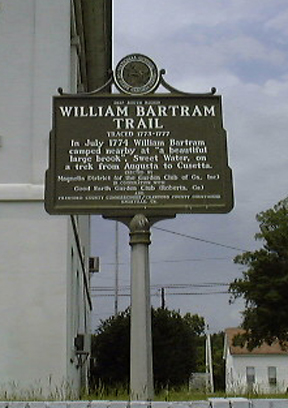 This Bartram marker is located on the back side of the Old Crawford County Courthouse.

This Bartram marker is located in front of City Hall in Roberta on East Agency Street near the intersection of East Agency and Hicks Road.
Perhaps this was the Wood's Hydrangea which is very common today. It has a white flower, and grows in semi shade.
Millie Stewart
---
USGENWEB NOTICE: In keeping with our policy of providing free information on the Internet, this photograph may be used by non-commercial entities, as long as this message remains on all copied material. This image may NOT be reproduced in any format for profit or for presentation by other persons or organizations.
Persons or organizations desiring to use this image for purposes other than stated above must obtain the written consent of the contributor. The submitter has given permission to the USGenWeb Archives to store the file permanently for free access.

This file was contributed for use in the USGenWeb Archives by: Ed Gordon

Return to the Crawford County, Georgia Digital Library