Colorado USGenWeb Archives
Beecher's Island
Battlefield Monument
Beecher Island, Yuma County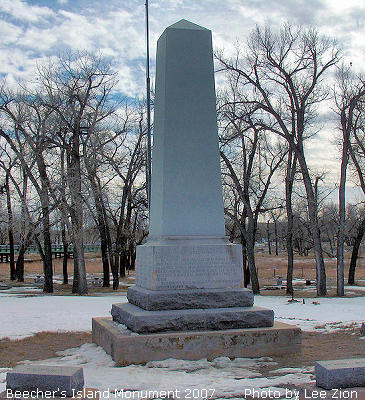 The Beecher's Island Battlefield Monument is a joint Colorado - Kansas historical site established in 1905 to commemorate the 17-19 September 1868 battle fought there between Colonel George A. Forsyth's Scouts and a group of about 750 Indians from several Plains Indian tribes.
The site is located on County Road KK just west of the Arickaree River bridge. To get there from Wray go south about six miles on US 385 and follow the Beecher Island signs ten more miles.
[NAD27 GPS - LAT 39°52'19"N LONG 102°11'08"W]
Historical note: The monument photographed above is the second to be erected. The 1905 monument, located about 200 yards south of (behind) today's marker on the original island, was washed away in the 1935 Arickaree River flood. Only part of the engraved portion of the base of the original marker was recovered. The mud stains and chips evident in the photographs below came from that flood.
The photographs in this portion of the archives were contributed by:
Lee Zion unless otherwise credited.
This page was last updated Saturday, 14-Jun-2008 11:53:32 EDT
---
How to Contribute

Find a Volunteer Photographer
---
Marker Photographs
(Click on the underlined name to view the tombstone photograph.
Memorial Markers
---
Notes about the scouts names:
The list on the east face of the monument includes only the 30 uninjured scouts.
Wm. Wilson, who died on the battlefield, is listed as uninjured instead of John Wilson who survived.
Two additional lists of names to honor the dead and wounded scouts were engraved on the upper sections of the monument that were lost in the 1935 flood.
The five scouts who died at Beecher's Island are listed above, the wounded scouts were:

Bvt Col G.A. Forsyth - Commanding
W. Armstrong
G.B. Clark
J. Curry
H. Davenport
T.K. Davis
B. Day
H. Farley
R. Gantt
J. Haley
F. Harrington
J.H. Ketterer
Wm H.H. McCall
L.A. McLaughlin
H. Morton
T. O'Donnell - died of wounds Nov 18 in the Ft Wallace Hospital.
Buried in the Ft Wallace Cemetery.
H.H. Tucker
F. Vilott
---
For more information about the Scouts, read The Forsyth Scouts and the Battle of Beecher Island.
---
Do you have any headstone photos from other Colorado cemeteries to add to the collection? If so, see How To Contribute.
---
Return to: Colorado Tombstone Photo Project Index
Return to: Yuma County Index
---
Contributed for use by the USGenWeb Archives Project (http://www.usgenweb.org) and by the COGenWeb Archive Project
USGENWEB NOTICE: These electronic photographs may NOT be reproduced in any format for profit or presentation by other organizations or persons. Persons or organizations desiring to use this material, must obtain the written consent of the contributor, or the legal representative of the submitter, and contact the listed USGenWeb archivist with proof of this consent. The submitter has given permission to the USGenWeb Archives to store the file permanently for free access.