MONTEZUMA COUNTY
TOMBSTONE PHOTOS
SYLVAN CEMETERY
---
Please Help!!
Click here or here to transcribe and send in your records!
Or submit files for this County directly to: Carolyn Golowka
Email Registry For Contributors
Any time you see this symbol next to a name, they have registered their e-mail address at The Registry.
This will be their current address.
---
Sylvan Cemetery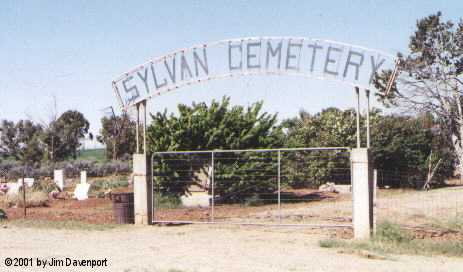 The Sylvan Cemetery is located 6 ½ miles west of Highway 666 from Pleasant View, CO on County Road CC, then south on County Road 9 for ½ mile; the cemetery is on the west side of the road. All gravestones have been photographed and entered here. There are some metal mortuary markers that were not photographed.
The photographs in this portion of the archives were contributed by:
Jim Davenport (jd)
Headstones
(Click on the underlined name to download the tombstone photograph)
Veterans Memorial (jd)

Top: Rose, Berson Horace, May 19, 1922-July 30, 1945, Colorado, GM2 USNR, World War II, PH [Purple Heart]
Middle: Williford, Robert R., Nov 9, 1923-Jan 11, 1946, Colorado, MOMM3 USNR, World War II, PH [Purple Heart]
Bottom: Yates, Jackie Clyde, June 23, 1924-Sept 7, 1951, Colorado, SFC INFANTRY, Korea, PH [Purple Heart]
Denton, J. C., 1891-1985, US ARMY, World War I (jd)
Herren
Honaker, Clarence Edgar "Ed", June 1, 1934-Oct 19, 1990, married Aug 15, 1953, Theta Jewel, Jan 25, 1934-[blank], parents of David Edgar and Peggy Lee (jd)
Lancaster

Baby, 1923-1923 (jd)
James A. "Al", Sept 4, 1894-Oct 28, 1992, married June 9, 1922, Alice M.,Aug 16, 1901-June 11, 1993 (jd)

Lanier
Leonard, Richard M., b. Feb 9, 1912-[blank], married Apr ??, ????, Hazel N, Mar 18, 1913- Nov 18, 1997 (jd)
Lindback, Iva Louise, June 21, 1908-Nov 21, 1991 (jd)
Long, Lowe, [no dates] (jd)
Marr

Eva McGuire, Feb 5, 1881-Apr 25, 1969 (jd)
Graham W., Feb 25, 1911-Jan 25, 1938 (jd)
Roy G., July 14, 1875-Apr 29, 1943, CAPTAIN, 21 KANS. INF (jd)

Mitcham, Alesa Rae, 1950-1975 (jd)
Morrow

Floyd Donald, Nov 2, 1897-July 19, 1966, New Mexico, PVT US ARMY, World War I (jd)
Jessie L., June 13, 1905-July 1, 1996 (jd)
Nichols, Alice Ann, Apr 26, 1961-July 6, 1990 (jd)
Norton
Randol
Retherford
Rodman child, [nothing further] (jd)
Rose
Sakizzie

Charlotte, [Nothing further] (jd)
Navajo infant, [Nothing further] (jd)

NOTE: It is probable that the infant and Charlotte belong together. Sakizzie is a local Navajo name, and the two markers were side by side in the cemetery. It is not very common to see the Navajo burials in the small local cemeteries in this area. (jd)

Sprague, William George, Nov 1, 1944-(blank), married Aug 31, 1967, Linda Diane, July 20, 1948-Jan 28, 2001 (jd)
White
Williford, James B, 1880-1967, and Charlotte F., 1887-1982 (jd)
Willis
Wood, Larry, 1930-1932 (jd)
Wooton

Alma B., 1914-1923; Minnie L., 1881-1968; and James J. F., 1872-1954 (jd)
Evelyn, May 25, 1916-Feb 2, 1997, married Oct 31, 1933, Clarence W., Nov 16, 1905-June 5, 1985 (jd)
---
If you have genealogical data you would like to contribute to any of these Colorado Archives pages, please read the Guidelines for Submissions and submit your files immediately by utilizing online submission form.

NOTICE: Printing the files within by non-commercial individuals and libraries is encouraged, as long as all notices and submitter information is included. Any other use, including copying files to other sites requires permission from the submitters PRIOR to uploading to any other sites. We encourage links to the state and county tables of content.
---
The USGenWeb Archives Project - Colorado
The COGenWeb Project
The USGenWeb Tombstone Project
---
The USGenWeb Archives Project is a part of the The USGenWeb Project
Send comments about this page to:
Carolyn Golowka
The USGenWeb Archives Project - Colorado File Manager
Copyright © 1997 - 2021 The USGenWeb Archives Project
This page last updated - Saturday, 23-Nov-2019 19:00:58 EST