Colorado USGenWeb Archives
Tijeras Cemetery
Valdez, Las Animas County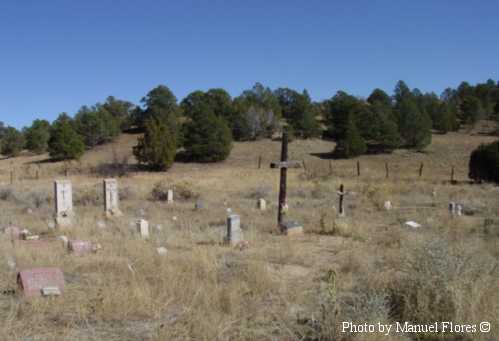 Tombstone Photographs
Tijeras Cemetery is 10 miles from I-25 west bound on Highway 12 (Highway of Legends) on the north side of the highway. There are two Cemeteries; one you can see from from the highway on the north side on a hill (Tijeras #2). It is before you get to entrance of Tijeras #1. There is an old Church on the left (south side of highway). Go about ¼ mile and turn to the right up the hill and follow the dirt road back to the cemetery. (USGS Map, Latitude: 370726N Longitude: 1043911W, )
The photographs in this portion of the archives were contributed by:
Manuel Flores (mf)
---
How to Contribute

Find a Volunteer Photographer
---
Headstones
(Click on the underlined name to download the tombstone photograph)
LaCrue

Joe N, Oct 2, 1915-May 11, 1964 (mf)

Joe N. "Nick" LaCrue son of Pedro J. & Maria Concepcion (Rivera) LaCrue; b. 2 Oct 1915, Tobe, Las Animas County, CO; d. 11 May 1964, Trinidad, Las Animas County, CO.

Pedro J, Sept 30, 1868-Mar 6, 1957 (mf)

Pedro Jose LaCrue, son of Francisco & Maria Theodorita (Duran) LaCrue; b. 30 Sep 1870 (info obtained from Holy Trinity Catholic Church); d. 6 Mar 1957, Trinidad, CO.

Rachel, Feb 11, 1904-Mar 6, 1938 (mf)

Daughter of Pedro Jose & Maria Concepcion (Rivera) LaCrue, born in Starkville, Colorado; died in Bon Carbo, Colorado
Samora, Oclires L (LaCrue), 1902-1939 (mf)

Oclires (LaCrue) Samora, daughter of Pedro J. & Maria Concepcion (Rivera) LaCrue; b. 26 Mar 1902, Starkville, Las Animas County, CO; married Samuel Samora on 14 Jul 1924 in Trinidad, Las Animas County, CO; d. 13 Mar 1939, Bon Carbo, Las Animas County, CO.
Trujillo, Ruben, June 12, 1910-Dec 28, 1961, Colorado, PFC, HQ CO 15 Infantry, World War II (mf)

Born and died Las Animas County, Colorado.
---
Do you have any headstone photos from this or any other Colorado cemetery to add to the collection? If so, see How To Contribute.
---
Return to: Las Animas County Index
Return to: Colorado Tombstone Photo Project Page
---
Contributed for use by the USGenWeb Archive Project (http://www.usgenweb.org) and by the COGenWeb Archive Project
USGENWEB NOTICE: These electronic photographs may NOT be reproduced in any format for profit or presentation by other organizations or persons. Persons or organizations desiring to use this material, must obtain the written consent of the contributor, or the legal representative of the submitter, and contact the listed USGenWeb archivist with proof of this consent. The submitter has given permission to the USGenWeb Archives to store the file permanently for free access.