Colorado USGenWeb Archives
Mount Olivet Cemetery
Wheat Ridge, Jefferson County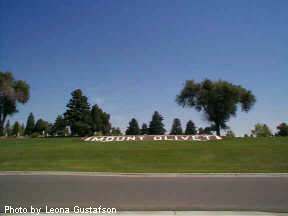 Tombstone Photographs
The Mount Olivet Cemetery, located at 12801 W 44th Ave., Wheat Ridge CO 80033-2460, in Jefferson County was established in 1892 and is the Denver Archdiocese's only active Catholic cemetery. The 400 acre site was donated to the diocese by Father Machbeuf, an 1859er and Denver's first Catholic Bishop. Many (most?) remains from the old Denver Mt. Calvary Catholic Cemetery were re-interred in Mt. Olivet. When Denver's first Catholic cemetery, Mount Calvary, was closed and the city required that the bodies be moved many were brought to Mt. Olivet. Mt. Calvary Section was set aside for the burials. However, many families chose to have their loved ones' remains interred in family plots. So many of those previously buried at Mt. Calvary can be found throughout the cemetery. Undoubtedly there are many buried in Mt. Calvary Section who's families were never able to afford gravestones.
The photographs in this portion of the archives were taken by:
This page was last updated Monday, 02-Feb-2009 22:20:51 EST
---
How to Contribute Find a Volunteer Photographer
---
Headstones: | A | B | C | D | E | F | G | H | I | J | K | L | M | N | O | P | Q | R | S | T | U | V |W | X | Y | Z |
(Click on the underlined names to download the tombstone photograph. A [text] notation is a link to information uploaded with the photograph.)
A
B
C
Campion, John Francis tomb [text] (jbz)

John Francis Campion, 1848-1916
Nellie Campion, 1872-1922
John Francis Campion Jr., 1895-1923 and
Roland Campion, 1901-1921

Casper, John, died Mar 27, 1893, aged 62 years; Catherine, wife of John, died Oct 26, 1875 aged 45 years; Julius, died Apr 25, 1880, aged 12 years; Lina, died May 14, 1880, aged 10 years; Baby (rt)
Cassady, Mary H., wife of T. Cassady, died 3, 1886, aged 27 years and Thomas, died Aug 1, 1919, aged 81 years (rt)
Clifford, Bertha, 1870-1888 [Mt. Calvary Section No. 24, Blk 2] [photo missing] (rt)
Corish, Electra (Bardwell), 1905-1985 and McNeilis, Esther (Bardwell), 1899-[1993] (back) (jb)

Sisters and daughters of Hannah J. (Cunningham) Bardwell. (See above)

Cunningham, J. J., died Oct 4, 1882 [Mt Calvary Section 24] [photo missing] (rt)
D
Donahoe, Frank, died 1930, California, PVT 8th Engrs (agg)
Drotar,

Lieut. George B., 31 March 1924--10 June 1944, son of Mary Drotar, (sam)
Joseph, 1907—1985, and Julia, 1909—1986, husband and wife, brother to Lieut. George B. Drotar, son of Mary Drotar, Madonna Mausoleum, (sam)
Mary, 2 February 1887--2 July 1979, mother of Lieut. George Drotar, (sam)
F
Pauline was the daughter of William Frances & Rose Mary (Montre) Rapue

Wife of Robert Fried; mother of Edward Paul Fried & Robert Fried.
G
Gleason, William, died June 20, 1897, aged 40 yrs [photo missing] (rt)
H
K
L
LaCrue

Christened Maria Emilia Muniz; always called Emilia
Wife of Jose (Joe) Avaristo LaCrue.

Husband of Maria Emilia (Muniz) LaCrue
Father of Jose S. and Toby LaCrue

Son of Jose Avaristo & Maria Emilia (Muniz) LaCrue.

Orlando H., born 25 Apr 1913; died 6 Sep 1972; son of Juan Jesus & Maria Inez (Lopez) LaCrue and nephew of Jose Avaristo & Maria Emilia (Muniz) LaCrue.

Son of Jose Avaristo & Maria Emilia (Muniz) LaCrue
M
Mabrito
Maddocks, William C., 1869-1925; Edward L. Barteau, June 11-12, 1949; and Genevive E., 1879-1927 (pjb)

William Charles Maddocks, born 21 July 1869; died 2 Nov 1925; and his wife, Genevieve Elizabeth (Martin) Maddocks, born 9 Nov 1879; died 2 Apr 1927.
Edward Leon Barteau, son of Wilfred L. & Frances E. (Maddocks) Barteau, born 11 June 1949; died 12 June 1949 (see above).
Map showing location of graves. (pjb)

McDaniel, Annetta Ann, 1919-1922 (agg)
McNeilis, Esther (Bardwell), 1899-[1993] and Corish, Electra (Bardwell), 1905-1985 (back) (jb)

Sisters and daughters of Hannah J. (Cunningham) Bardwell. (See above)

Mitchell, Lawrence V, died 1930, New York, VT 74th Ord Dep (agg)
Mullen, James, Nov. 4, 1846-Dec. 25, 1926, and Margaret Jane [Cart], Sept. 10, 1847-Apr. 16, 1927

[Sec. 7, Blk. 2]

(adr)
Mulvihill

Helen Campion Mulvihill, 1899-1947 (jbz)
Harry Mullvihill, 1900-1942 (jbz)
O
Q
Quintana, Daniel, died 1930, New Mexico, PVT 15 Motor Rep Bn (agg)
Quirk, Lawrence, died Feb 1, 1882, aged 40 yrs (rt)
R
Rapue

Clarence H., 1909-1957

[Circle H-153]

(sda)

Son of William Francis & Rose Mary (Montre) Rapue; born 9 Nov 1909, died 12 Aug 1957

William B., 1882-1948; and Rose M., 1885-1973

[Circle H-38 & 39]

(sda)

Records show William's middle name as Francis
Son of Anton A. & Emma Ruth (Lavelett) Rapue; born 8 Jan 1882
Rose Mary was the daughter of Augusta & Marie Philista (Gondreau) Montre, born 23 Mar 1885, died Nov 1973
Half-sister of Paul Lavelett

Reed, Verner Zevola 1863-1919 and Mary Dean (Johnson) 1873-1945 [text] (jbz)
Rossorelli, Michelangelo, 1872-1955 and Palma, 1877-1952 (vb)
S
Sandtner
Schwartz, Mother, Dec 16, 1849-Jan 20, 1920; Father, Feb 19, 1834-Aug 2, 1907; and Bernard R., July 14, 1891, Killed in Action, Nov 1, 1918 (rt)
Steinke
T
V
Vesco, Rose Marie, Oct. 14, 1939-Oct. 18-1939 [See Henry and Stella Bueb] (adr)
W
Waldron, Mary, died May 6, 1897, aged 47 years

[Mt. Calvary Section]

(rt)
Ward, Alice, 1868-1922 (agg)
Webster, Phyllis Bullock-Webster, 1900-1968 (jbz)
Will, William Francis, 1863-1924 and Nellie Joy, 1874-1917,

Sec 13, Blk 5, Lot 12, Gr 8 & 9

(sm)
---
Do you have any headstone photos from this or any other Colorado cemetery to add to the collection? If so, see How To Contribute.
---
Return to: USGenWeb Archives Jefferson County Index
Return to: Colorado Tombstone Photo Project Page
---
Contributed for use by the USGenWeb Archive Project (http://www.usgenweb.org) and by the COGenWeb Archive Project
USGENWEB NOTICE: These electronic photographs may NOT be reproduced in any format for profit or presentation by other organizations or persons. Persons or organizations desiring to use this material, must obtain the written consent of the contributor, or the legal representative of the submitter, and contact the listed USGenWeb archivist with proof of this consent. The submitter has given permission to the USGenWeb Archives to store the file permanently for free access.