Colorado USGenWeb Archives
Lower Beaver Creek Cemetery
Fremont County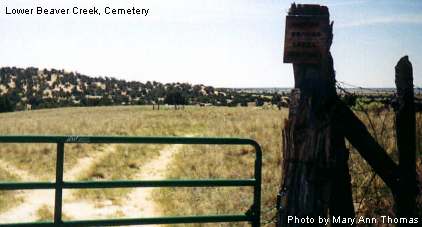 Tombstone Photographs
The Lower Beaver Creek Cemetery was established about 1865. It is located southeast of Penrose, near CO Highway 120 about 1/2 mile from the Pueblo County border.
The photographs in this portion of the archives were contributed by:
Mary Ann Thomas (mt)
Kathleen Curtis Uhland (kcu)
This page was last updated Saturday, 14-Jun-2008 11:53:34 EDT
---
How to Contribute

Find a Volunteer Photographer
---
Headstones
(Click on the underlined name to download the tombstone photograph)
Berry, Brother, 1845-1892 (mt)
Brown
Curtis, Nettie Green, wife of R. M., Dec 13, 1879-June 24, 1902 and on same stone Baby, Oct 18, 1897-Oct 19, 1897 and Helen O., June 7, 1902-July 11, 1902 [daughters of R. M. & Nettie Green Curtis; located Block E] (kcu)
Kelley
Klinger, John J., Co F 118th Ohio Inf (mt)
Marshall
Mortenson, Bessie M, 1893-1917 (mt)
Sapp
Shoffner, Jean, Apr 21, 1937-Apr 22, 1989 (mt)

The following was contributed by her daughter, Amy Shoffner (): There is a mistake on her date of death--it should read April 22, 1989. She was the daughter of G. Horton &: Carol E. Dolsen. G. Horton Dolsen is also buried at this cemetery.
Thomson, Wm, (no dates)
Thompson
Woodriff
Wycough, Ralph, 1848-1897 (mt)
---
Do you have any headstone photos from this or any other Colorado cemetery to add to the collection? If so, see How To Contribute.
---
Return to: Fremont County Index
Return to: Colorado Tombstone Photo Project Page
---
Contributed for use by the USGenWeb Archive Project (http://www.usgenweb.org) and by the COGenWeb Archive Project
USGENWEB NOTICE: These electronic photographs may NOT be reproduced in any format for profit or presentation by other organizations or persons. Persons or organizations desiring to use this material, must obtain the written consent of the contributor, or the legal representative of the submitter, and contact the listed USGenWeb archivist with proof of this consent. The submitter has given permission to the USGenWeb Archives to store the file permanently for free access.
You are our [an error occurred while processing this directive]visitor--please come again often.