Colorado GenWeb Archives
I.O.O.F. Cemetery, Caņon City, Fremont County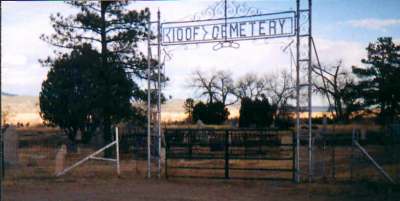 Tombstone Photographs
The International Order of Oddfellows Cemetery, established in the 1870's, is across the street from the Greenwood Pioneer Cemetery. The two cemeteries are located about six blocks south of the Caņon City city limits on 1st Street (Temple Canyon Road). A transcription of the cemetery burial records is in the Fremont USGenWeb Archives.
The photographs in this portion of the archives were taken by:
Jim Davenport (jd)
Mary Ann Thomas (mt)
Sharon Linneer (sl)
---
How to Contribute

Find a Volunteer Photographer
---
Headstones
(Click on the underlined name to download the tombstone photograph)
Bain, R.A., 1812-1882, SGT Co K 24th Mich Inf (mt)
Bloomfield, Elic, 1861-1945 (mt)
George, Sloan B, Mar. 23, 1865 - Jan. 15, 1918 (Modern Woodmen of America, IOOF, Brotherhood of American Yeomen), and Sarah A, Sept. 28, 1864 - Nov. 30, 1949 (jd)
Giem
Goodwin
Kelley, Wm. W, died 1880 age 63 (mt)
Peterson, Bertha B, 1885 - 1977 (mt)
Pope
Priest, Mary A. (dates?) (mt)
Prine
Reese, Benjamin, 1840-1888, Co D 5th PA H.A. (mt)
Riede, Louis, 1863 - 1904 (Woodmen of the World) (jd)
Ringle
Rose, Alice, 1866-1895 (mt)
Salmon, Mary, 1818?-1882, wife of Alfred (mt)
Schellenger, Nellie E, 1893-1976 (mt)
Sears
Shaver, Benjamin, 1859-1916 (mt)
Shepherd
Sloan, Nellie M., 1891-1895, Daughter of AA Sloan (mt)
Smith
Strickland, Fay Thomas, 1892-1970 (mt)
Sutton, Ida A, 1891-1965 (mt)
Taylor
Tharp, James H, 1865-1901 (mt)
Thomas

Abigail, died Sep 5, 1876, age 46, buried Stockdale Texas, (memorial marker on the back of Josiah Thomas stone) (mt)
Everett Webster, 1865-1949 and Alice Brewer, 1871-1941 (mt)
Josiah D, died Feb 14, 1909, Age 74 (mt)

Thompson, Hallis, Son of C & NC Thompson (mt)
Thyng, Gracie, 1875-1879 (mt)
Treymane, Richard, died 1906 age 61 (mt)
Trowbridge, Mabel F, 1898 - 1972 [photo missing] (mt)
Tyler, Leon A, 1882-1948 (mt)
Waldo, Rev L.F., 1817-1904 (mt)
Walker, Jacob J, 1841-1915 (mt)
Warner, Edward D, 1901-1930 (mt)
Watson, J.C., 1852-1912 (mt)
Wilson, John H, 1850-1913 (mt)
Wood
Wooden, Sarah, 1867-1895, wife of Ralph, dau of W.S. Jones (mt)
---
Do you have any headstone photos from this or any other Colorado cemetery to add to the collection? If so, see How To Contribute.
---
Return to: Fremont County Index
Return to: Colorado Tombstone Photo Project Page
---
Contributed for use by the USGenWeb Archive Project (http://www.usgenweb.org) and by the COGenWeb Archive Project
USGENWEB NOTICE: These electronic photographs may NOT be reproduced in any format for profit or presentation by other organizations or persons. Persons or organizations desiring to use this material, must obtain the written consent of the contributor, or the legal representative of the submitter, and contact the listed USGenWeb archivist with proof of this consent. The submitter has given permission to the USGenWeb Archives to store the file permanently for free access.
---
You are our [an error occurred while processing this directive]visitor--please come again often.