Colorado USGenWeb Archives
Coaldale Cemetery
Coaldale, Fremont County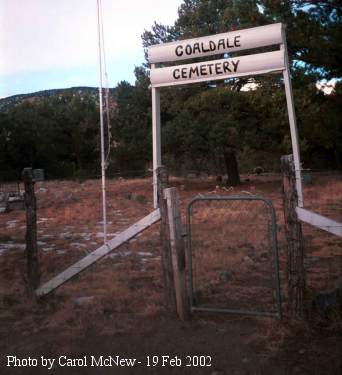 Tombstone Photographs
The photo above shows the newly painted walk gate into the cemetery at Coaldale, Colorado. The cemetery is only 10 feet off the road from Hayden Creek Road, County Road 6 in western Fremont County.
The photographs in this portion of the archives were contributed by:
Ann Koch (ak)
Carol McNew (cm)
This page was last updated Saturday, 14-Jun-2008 11:53:34 EDT
---
How to Contribute

Find a Volunteer Photographer
---
Headstones: | A | B | C | D | E | F | G | H | I | J | K | L | M | N | O | P | Q | R | S | T | U | V |W | X | Y | Z |
(Click on the blue underlined name to download the tombstone photograph)
(Black underline indicates uncertain of information)
Ashlock, Charles M, 1908-1986, PFC US ARMY, World War II, Mason; and wife, Myrtle F, 1908-1997 (cm)

Charles Ashlock and his wife, "Monie," were accomplished musicians. They played for many dances throughout the area for many years--he on his organ, and she on the base viol. They lived in Coaldale for the latter half of their lives.
Carson, Dudley C, 1848-1916, nephew of Kit Carson (cm)

Kit Carson's nephew, Dudley, worked at the Gypsum quarry for Mr. Gilray, and was killed by a falling rock. The stone was erected by the quarry management.

Clayborn, Sarah A, died April 5, 1887, aged 18 mo 1? ds (cm)
Koch, Ronald Charles, Mar 16, 1919-Nov 7, 1987, TECH 5 US ARMY, World War II (ak)

Son of Charles A. & Ruth Ada (Poet) Koch, married 12 Dec 1949, Violet M. Crawford (see McLaren below).
Lanoue, Alfred P, Dec 20, 1856-Mar 7, 1910 (cm)

The Lanoue family homesteaded the property from which the cemetery was carved in late 1800s.
Madson, M, Mar, 28, 1853-July 18, 1897 (cm)

The beautiful iron enclosure is marked with the name MADSON. There are several iron enclosures at the Coaldale Cemetery.

McLaren, Violet M., May 17, 1934-Oct 13, 1996 (ak)

Daughter of Lorin & Nora (Madison) Crawford, married (1) 12 Dec 1949, Ronald Charles Koch (see above) and (2) Hubert McLaren.

Muehlbach, Louis, 1840-1913 (cm)

An early pioneer in the Coaldale area.
Porter, Stella B. [Zdeneks/Denek], 1900-1968; and Lloyd L, 1921-[blank] (cm)

Stella was the daughter and heir of early Fremont County Pioneers, Thomas & Kittie Denek.
Toupain, Joseph, Jan 5, 1873-Jan 6, 1879 (cm)

Joseph's was one of the earliest burial at the cemetery.
---
Do you have any headstone photos from this or any other Colorado cemetery to add to the collection? If so, see How To Contribute.
---
Return to: Fremont County Index
Return to: Colorado Tombstone Photo Project Page
---
Contributed for use by the USGenWeb Archive Project (http://www.usgenweb.org) and by the COGenWeb Archive Project
USGENWEB NOTICE: These electronic photographs may NOT be reproduced in any format for profit or presentation by other organizations or persons. Persons or organizations desiring to use this material, must obtain the written consent of the contributor, or the legal representative of the submitter, and contact the listed USGenWeb archivist with proof of this consent. The submitter has given permission to the USGenWeb Archives to store the file permanently for free access.