Colorado USGenWeb Archives
Myers Cemetery
Calhan, El Paso County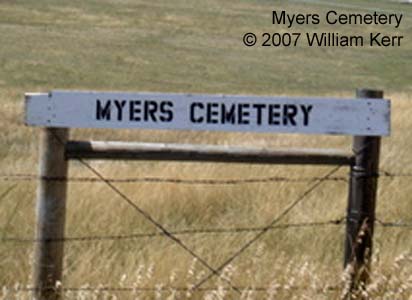 Tombstone Photographs
Myers Cemetery, established in 1894, is located south of Calhan, approximately 35 miles northeast of Colorado Springs on U.S. Highway 24. It can be reached from Highway 24 by turning south on Calhan Highway and proceeding east on Funk Road and south on McQueen Road approximately 3/4 mile. A sign for the cemetery is on the west side of the road, and the cemetery is located about five hundred yards northwest of the sign.
The photographs in this portion of the archives were taken by:
William D. Kerr (wdk)
This page was last updated Saturday, 14-Jun-2008 11:53:32 EDT
---
How to Contribute

Find a Volunteer Photographer
---
Headstones
(Click on the underlined name to download the tombstone photograph)
Allen

Fannie, 1869-1905 Beloved wife of J.R. Allen and our baby

Anderson, William, Comrade
Cooley

A. M., Jul 21,1848-Mar 14, 1904  

Son of William J. Cooley. Father of Harvey Cooley.

Harvey, died May 6, 1899, aged 1 yr 3 ms & 13 ds

Son of Alexander May & Sarah Elizabeth (Smith) Cooley, b. January 23, 1898, d. May 6, 1899 in Calhan, El Paso, Colorado

Sarah E. [Smith], 1852-1913

Sarah Elizabeth Smith. b. December 27, 1852 in Illinois; d. September 12, 1913 in Calhan, El Paso County, Colorado; she married Alexander May Cooley on May 30, 1871. Mother of Harvey Cooley.

Furrow, Olive D., 1840-1894
Gaddis, Frank, Jan 16, 1907-Jan 9, 1917
Harris
Harrison, Beatrice, 1900-1913
Kelly
Knox, Levi Emery, Dec 11, 1899-Aug 15,1901 Daughter of George Washington Knox and Alva Myrtia (Cooley) Knox
Lorimer, Roy
Lusk, Laura E., Jan 10, 1873-Aug 10,1909 Wife of R A Lusk
Merritt, Charles E., Died Oct. 19, 1894 Aged 54 Years Old
Myers
Smith, Sarah E., Oct 15, 1824-Nov 2, 1897 Married William Newton Smith
Squires, Robert Gaither, Apr 15, 1908-May 9, 1908 Son of Marshall and Roberta
Warren, Clarence H., 1890-1910
Weinlich
Wilson, Hattie, 1908
---
Do you have any headstone photos from this or any other Colorado cemetery to add to the collection? If so, see How To Contribute.
---
Return to: El Paso County Index
Return to: Colorado Tombstone Photo Project Page
---
Contributed for use by the USGenWeb Archive Project (http://www.usgenweb.org) and by the COGenWeb Archive Project
USGENWEB NOTICE: These electronic photographs may NOT be reproduced in any format for profit or presentation by other organizations or persons. Persons or organizations desiring to use this material, must obtain the written consent of the contributor, or the legal representative of the submitter, and contact the listed USGenWeb archivist with proof of this consent. The submitter has given permission to the USGenWeb Archives to store the file permanently for free access.