Colorado USGenWeb Archives
Rico Cemetery
Rico, Dolores County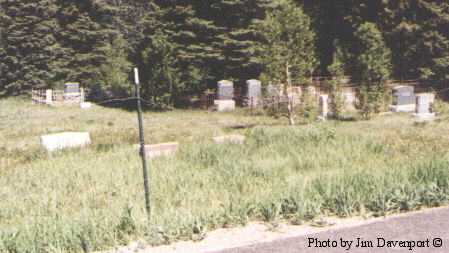 Tombstone Photographs
The Rico Cemetery is about 1 mile South of Rico, CO. State Highway 145 goes right through the middle of the cemetery.
The photographs in this portion of the archives were contributed by:
Jim Davenport (jd)
Paula Neal (pn)
Al & Donna Rothe (adr)
This page was last updated Saturday, 14-Jun-2008 11:53:33 EDT
---
How to Contribute

Find a Volunteer Photographer
---
Headstones
(Click on the underlined name to download the tombstone photograph)
Baer

Charlie, died June 25, 1932, Colorado, PVT, 66 DEPOT BRIG (jd)
Edward C. "Eddie", Apr 23, 1927-Jan 7, 1989, TEC4 US ARMY (jd)
Theodore Richard, Mar 7, 1931-Dec 23, 1983, A1c US AIR FORCE, Korea (jd)

Bradley, Phillip H., 1879-1937 (pn)
Burghardt, Ida May, Jan. 19, 1888-Oct. 5, 1890 and Fannie Louise, June 21, 1890-Oct. 4, 1890; daughters of Sam H. & Fannie (Cart) Burghardt [GAR section] (adr)
Clark, James C., Oct 31, 1910-May 15, 1957, Colorado, CPL, 1748 SVC COMD UNIT, World War II (jd)
Columbo, Robert J., Dec 19, 1882-Aug 24, 1944, Colorado, PVT, 133 INF, 34 DIV, World War I (jd)
(jd)
Dawson, Isabel Doll, 1865 - 1910 Wife of Howard H. Dawson. (Women of Woodcraft) (jd)
Hargrove, Noble B., Mar 28, 1911-Nov 2, 1961, SP2 USNR, World War II (jd)
Heyer, Robert P, 1870-May 9, 1906; Robert Harold, Apr. 14, 1899-July 1, 1899, [infant son of R. P. & Lillie Maud (McConnel) Heyer]; and Lucile, 1900-1905 [daughter of R. P. & Lillie Maud (McConnel) Heyer] (adr)

Robert P. died as the result of injuries suffered in a railroad accident.
Stillborn twin sister of Robert Harold buried here, but unmarked.
Johnston, Richard, 1855-1914 (pn)
Jones
Kenney, David T., Apr 18, 1947-May 7, 1966, Colorado, FA US NAVY (jd)
Koster
Lee, Marie O, died May 19, 1901. Aged 45 yrs. Wife of V. H. Lee. (Women of Woodcraft) (jd)
Lill, Ernest Martin, May 29, 1895-Aug 21, 1952, Colorado, PVT, 12 INFANTRY, 8 DIV, World War I (jd)
Lincoln

Charles A, July 26, 1911 - Jan. 14, 1989 (Mason) and Charlotte M, born Jan. 21, 1918 - [blank]. (Eastern Star) (jd)
James D., Nov 3, 1938-Nov 8, 1968, Colorado, SN US NAVY (jd)

Lingol, Eugene Elmer, Nov 5, 1926-Nov 20, 1951, California, SSGT US ARMY, World War II (jd)
Mangold, Ralph Girard, Mar 1, 1896-Apr 12, 1980, PFC US ARMY, World War I (jd)
McCormick, S. W., LIEUT, CO B, 73rd ILL. INF (jd)
Mellott, Norman Charles, Nov 15, 1916-Nov 10, 1986; and Dorothea Off, Dec 17, 1919-Sept 10, 1991 (pn)
Melvin, Shari Roxanne, 1940-blank; and Don Clayton, 1928-1984 (pn)
Meredith
Meyer
Muller, Gustan Herman, 1858-1910; and Martha, 1907-1908, his daughter (pn)>
Nyquist, M. Leander, Feb. 7, 1875 - Nov. 6, 1924 (Woodmen of the World) (jd)
Riek, Louis Henry, Feb. 13, 1878 - Mar. 5, 1906 (Woodman of the World) (jd)
Robison, James F., 1 LT, CO E, 67 PA. INF (jd)
Rohde

Carrie Colton, Sept. 12, 1865 - Jan. 6, 1927, wife of Charles W. Rohde (Neighbor of Woodcraft) (jd)
Charles W, 1850 - 1931, husband of Carrie Colton Rohde (Woodmen of the World) (jd)
Schifferer, Viola, 1885 - 1911 (jd)
Sheperek, Wayne H., Jun 8, 1930-Nov 7, 1990, HM3 US NAVY, Korea (jd)
Stampfel, Frank J., Dec 26, 1894-Aug 7, 1966, Utah, CPL, 89 DIVISION, World War I (jd)
Steinhauser, Adolf, PRIN MUS, 32 ILL INF (jd)
Swank, James Eldon, Feb 1, 1930-Oct 27, 1980, YN2 US NAVY, Korea (jd)
Vetter, Frederic E, 1884 - 1900 (Some how related to Mary M Koster and Werner H. Koster? See above.) (jd)
Welihan, Stephen, CO L, 4th NY PRO CAV (jd)
Wilkin, K. A., CO B, 8th KAN INF (jd)
Winkfield, Jacob W., 1st SGT, CO G 3 ILL CAV (jd)
---
Do you have any headstone photos from this or any other Colorado cemetery to add to the collection? If so, see How To Contribute.
---
Return to: Dolores County Index
Return to: Colorado Tombstone Photo Project Page
---
Contributed for use by the USGenWeb Archive Project (http://www.usgenweb.org) and by the COGenWeb Archive Project
USGENWEB NOTICE: These electronic photographs may NOT be reproduced in any format for profit or presentation by other organizations or persons. Persons or organizations desiring to use this material, must obtain the written consent of the contributor, or the legal representative of the submitter, and contact the listed USGenWeb archivist with proof of this consent. The submitter has given permission to the USGenWeb Archives to store the file permanently for free access.