Colorado USGenWeb Archives
Granite Cemetery
Chaffee County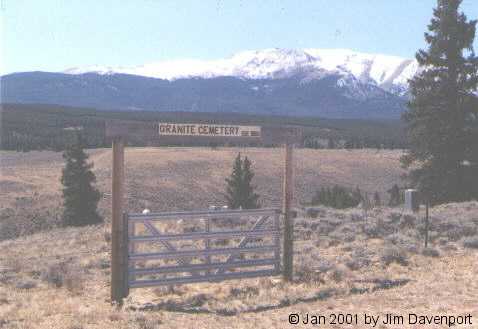 Tombstone Photographs
The Granite Cemetery, also known as the Cache or Cash Creek Cemetery, is located on County Road 398 about one and one-half miles west of the town of Granite. The first known burial was in 1860. The oldest surviving stone dates from 1878. There is a transcription of the headstones in the Granite Cemetery in the Archives.
The photographs in this portion of the archives were contributed by:
Gail Meyer Kilgore(gmk)
Jim Davenport (jd)
---
How to Contribute

Find a Volunteer Photographer
---
Headstones
(Click on the underlined name to download the tombstone photograph)
Ball

Clara Jane, 1852-1910 [C-1-38] (gmk)
Wm. H, died 1908 age 60, LT Co D 93rd NY Inf [C-1-39] (gmk)

Blackmore, Thomas, 1828-1898 [B-1-26] (gmk)
Blake
Borland, William, 1828-1907 [A-1-14] (gmk)
Bradbury
Franklin, Charles, 1868-1950 [A-1-?] (gmk)
Galvin
Giebfried
Glasser
Gripe, Mary, 1904-1964 (gmk)
Hamman
Harris
Hawks, Chuck, 1912-1980 [C-3-2] (gmk)
Haynes, Peter, Co C 50th NY Inf [B-3-24] (gmk)
Hockett
Knickerbocker, Ethel, died 1899 age 5 mo, dau of HE and Mary [A-1-30] (gmk)
Krueger, Maud B, 1883-1907 [A-1-10] (gmk)
Michell, Maria Teresa, died 1897 age 1 day [B-1-21] (gmk)
Miller, Walter, 1897-1966 [B-1-32] (gmk)
Mitchell
Nichols, George, died 1926 age 60 [C-1-5] (gmk)
Pine, Joseph C, died 1880 [C-1-18] (gmk)
Pinkus, Ben, Apr. 3, 1869 - May 22, 1905 (Odd Fellows, erected by Granite N. 117) (jd)
Robinson, Edward P, 1838-1906, CPL Co B 2nd Colo Cav [B-2-17] (gmk)
Tillison, H.H., 1859-1891 [C-2-33] (gmk)
---
Do you have any headstone photos from this or any other Colorado cemetery to add to the collection? If so, see How To Contribute.
---
Return to: Chaffee County Index
Return to: Colorado Tombstone Photo Project Page
---
Contributed for use by the USGenWeb Archive Project (http://www.usgenweb.org) and by the COGenWeb Archive Project
USGENWEB NOTICE: These electronic photographs may NOT be reproduced in any format for profit or presentation by other organizations or persons. Persons or organizations desiring to use this material, must obtain the written consent of the contributor, or the legal representative of the submitter, and contact the listed USGenWeb archivist with proof of this consent. The submitter has given permission to the USGenWeb Archives to store the file permanently for free access.