The Ashcraft Pioneers

Of Arkansas

Courtesy of Sharon Ashcraft

ashcraft329@yahoo.com

The Arkansas Ashcrafts, along with several other families, migrated from the York/Chester County area of South Carolina to southern Arkansas between 1853 and 1860. News had traveled back to the Carolinas from Arkansas about the rich, virgin soil and the low-priced land in the area being offered for sale by the federal government. Being farmers, the Ashcrafts were attracted to the undulating, fertile earth of the present-day Cleveland County area. Between 1857 and 1861, eight descendants of Immigrant Thomas Ashcroft patented almost 1500 acres near Mt. Elba on the southeastern banks of Big Creek as it flows into the Saline River.

A land patent, or 'first-title deed', was a document recording the transfer of land ownership from the federal government to an individual after the purchase price had been satisfied. Patentees were the original landowners. Upon being sold by a patentee, the land was transferred to all future owners documented by a warranty deed.

The following are the Ashcraft land patents obtained by the sons of Joel and Martha "Patsey" Ashcraft:

01 Dec 1857 William Leroy Ashcraft 80 acres Section 33 Township 10S, Range 9W

02 Apr 1859 Uriah Ashcraft 41 acres Section 4 Township 11S, Range 9W

01 Jun 1859 Jonathan Alexander Ashcraft 80 acres Section 21 Township 10S, Range 9W

02 Jul 1860 William Leroy Ashcraft 200 acres Section 33 Township 10S, Range 9W

01 Oct 1860 James Leonard Ashcraft 200 acres Section 31-32 Township 10S, Range 9W

01 Apr 1861 William Leroy Ashcraft 40 acres Section 33 Township 10S, Range 9W

01 Apr 1861 Thomas Kelsey Ashcraft 120 acres Section 23 Township 10S, Range 9W

Brother-in-law to the above and first husband of Rebecca Ashcraft, Jackson Chambers, patented the following land parcels:

01 Jun 1859 Andrew Jackson Chambers 80 acres Section 21 Township 10S, Range 9W

01 Oct 1860 Andrew Jackson Chambers 80 acres Section 21 Township 10S, Range 9W

Note: The land the Ashcrafts and Jackson Chambers patented was – at the time – located in Bradley County. Later, in 1873, the boundaries were changed and, incorporating parts of neighboring Bradley, Jefferson and Lincoln Counties, the area became known as Dorsey County. The name of the county was not changed to Cleveland County until 1885.

From South Carolina to Arkansas

1852 – 1860

John Ashcraft and his second wife, Rebecca, moved their family from North Carolina to the Fishing Creek area of South Carolina in 1799, following the birth of their oldest son Joel. The boundary line between York and Chester judicial districts divided the land on which they established their home. John had two 'plantations' as referred to in his will – one in the Chester district which he and Rebecca called home and one to the north in the York district.

In 1817, the year after his father's death, Joel Ashcraft married Martha "Patsey" Ferguson, a native of the Chester district. The couple set up housekeeping on the York plantation. About five years later, Joel's brother, Jesse, married Sarah McClellan. Jesse and Sarah made their home in the Chester district where Joel and Jesse's widowed mother continued to live until her death sometime between 1830 and 1840. Here Sarah gave birth to their five children.

The two brothers continued the Ashcraft tradition of farming, primarily growing cotton and tobacco. Joel and Patsey were of the Primitive Baptist faith and members of Harmony Baptist Church near Edgemoor. The brothers provided for their families, experienced the deaths of loved ones, and celebrated the marriages of their children - all the while becoming victims of nearby population growth.

Located about twelve miles to the northwest of the Ashcrafts was Fergus Crossroads, today known as the town of York. Here two major wagon roads intersected, one of which was The Great Wagon Road. Originally the intersection was home to nothing but a tavern that served as a stagecoach stop. From this grew the need for a livery stable and a blacksmith shop followed by a rooming house. By 1823, the population had grown to 451 people. The town now had eighty residences, eight stores, five taverns, a male academy, a female academy and a print shop. The populace included fifty-two skilled workers, eight attorneys, two medical doctors and a Presbyterian minister. In 1841 Fergus Crossroads was officially incorporated and its name changed to Yorkville. By then, it was home to more than eight hundred residents. (Before the outbreak of the Civil War in 1861, that number would swell to more than two thousand.)

Approximately nine miles to the southwest of the Ashcraft land, was the town of Chester. Chester was connected to Yorkville by a section of The Great Wagon Road that continued from Chester southward to Augusta and Savannah, Georgia, a very heavily traveled route. By 1825, the number of houses in Chester had doubled. Although not incorporated until 1840, the town was already a hub of railway activity serving as a major shipping point for the cash crops of local planters. Then, in the latter part of that decade, rumors began to spread of the impending construction of yet another railroad, one that would link Yorkville and Chester. With the resulting speculation, further growth of Chester's surrounding areas continued.

Intensifying their disenchantment with the population growth, the Ashcrafts had come to realize that after more than fifty years of planting in the same soil, crop production had become increasingly inferior. However, they would soon hear promising news.

Prior to 1850, John Chappell, Joseph R. Tucker, Henry W. Tucker, and John W. Tucker, all Carolinians, had made the move to what was then part of Bradley County, Arkansas. From there word traveled back to South Carolina of a place where land was inexpensive, the soil was fertile, and the population was sparse. The climate, being much like that of the Carolinas, allowed for the abundant growth of cotton. Although many large parcels of land had been purchased in 1837 by a few land barons, there was still land for sale by the federal government in that section of Arkansas. With those particulars in mind, the excitement grew and many of the South Carolina families began to contemplate a westward move.

By 1852, the railway between York and Chester had been completed. There was growing dissention over the issue of states' rights regarding slavery. Word was spreading that the Southern states were already in agreement to secede from the Union should a Republican president be elected. So, with the encroachment of the populace of York and Chester upon them, the increased congestion that resulted from the new railway, and the civil unrest among the citizens of the South, the Ashcrafts were making plans to leave South Carolina.

The farmers made a frugal decision to delay their westward journey until after fall harvest. Still, some crops would be sold at a lesser price while still in the ground, it being crucial that the farmers reach their new homes in time to get their spring crops planted. In the meantime, they had to determine what of their belongings they could take with them, often making painful choices as to what to leave behind. Flour, meal and dried vegetables were gathered from their larders. Coffee, sugar and salt would be purchased after the crops were sold. Wild game and fish would be the source of meat for most of their meals. As for livestock, only the strongest mules, necessary saddle horses, a milk cow and a few chickens would make the journey. Carts filled with grain and hay for the livestock wouldn't be enough to last the trip, but hopefully animal feed could be replenished along the way.

All of the Ashcrafts did not move to Arkansas at the same time. The first wagon train, westward-bound by the fall of 1852, included Jesse, his sons and their families, and four of the sons of Joel and Patsey - Morten, Uriah, William and Jonathan. Others would follow at later times; some would never make the journey.

The pioneers likely traveled the wagon road out of Yorkville through Abbeville and into northern Georgia. From there the trail led to Chattanooga, Tennessee and, at that point, intersected with Bell's Route. Bell's Route was used as one of the passages of the Trail of Tears during the latter 1830s. From Chattanooga westward this road ran across Tennessee just north of the Georgia, Alabama and Mississippi state lines ending at Memphis. Other families along the way joined the wagon train enroute to Arkansas.

The five to six month journey across the well-traveled wagon roads was not an easy one. The roads were deeply rutted and ridden with potholes; rains turned them into rivers of mud. The travelers averaged but about five miles per day, road conditions not being the sole reason for the slow pace. Wagons and carts constantly needed repair with wheels coming off and axles breaking. Horses threw shoes and mules went lame.

Unexpected swollen rivers and streams posed additional time-consuming problems. If waters weren't too swift, the travelers felled trees, bound them together to make rafts, drove the wagons onto them and swam the horses across. More serious delays occurred when there was no choice but to wait for the waters to recede.

At times, supplies were depleted, wild game became scarce and fishing was unproductive. Under these circumstances the wagons remained stationary while the hunters ventured further from the road to find game. And, occasionally, a family would have to stop long enough to bury their dead or wait for a baby to be born.

By mid-afternoon, the wagon trains stopped for the remainder of the day. Caring for the mules and horses was of primary importance. Preparations were made for the evening meal and the travelers readied their defenses for the night against the threat of wild animals and bands of thieves.

Nearing their destination, the travelers crossed the Mississippi River at Memphis. From there, they continued to Little Rock, traveling what was part of a network of wagon roads that spread through Arkansas, once referred to as "The Southwest Trail". Crossing the White and Arkansas Rivers, the first of the Ashcraft pioneers arrived in present-day Cleveland County, Arkansas during the early months of 1853.

Joel Ashcraft died in 1855, never having left South Carolina. Shortly thereafter, Leonard made the decision to follow the others to Arkansas. Taking his wife, Catherine Crook, and their three young sons, Leonard left for the new land leaving his mother Patsey, a sister Ruth, and brothers, Joseph and Thomas, behind. Accompanying Leonard and Catherine were Leonard's sister Rebecca and her husband, Jackson Chambers, the families of John M. Hamilton, James L. (son of John M.) Hamilton and John M. Chambers. Leonard's mother, Patsey, who was raising Morten's daughter Nancy, decided to stay in Chester County. With rumblings of an upcoming war, Joseph, along with his wife and children, chose to remain near his mother. Thomas and his family followed to Arkansas in 1859.

By 1860, native Carolinians living in Arkansas included Tillman Clark, Benjamin Reynolds, James Smith, Mary Adams, James L. Conrad, John B. Wylie, William McBride, Lydia Dorman, Hartwell Reynolds, William Baker, Margaret Kelsey, Joanna Ferguson, Edward Kelsey, Edward Clarke, Sylvester Hewett, Cynthia McCullough, M. Connell Curry, William D. Curry, Emily Dukes, Thomas, James and John McElhenny, Franklin Sturgess and James L. Ferguson, brother of Patsey Ashcraft.

Upon arriving in Arkansas, the Ashcrafts and their fellow Carolinians 'staked their claims' and began their new lives. All lived within a few miles of each other and helped one another clear the land, build their structures, and put up fences. They tilled the soil, 'laid in' their crops and planted their vegetable gardens looking forward all the while to a new and profitable life.

By October of 1860, the Ashcrafts, Jackson Chambers, and the Hamiltons had all satisfied the payments for their farms and had received their land patents. They were proud, original owners of Arkansas soil. But, all hopes were soon dashed for the former Carolinians. Soon after, in early 1861, war was declared between the states and the quiet, peaceful existence they sought in their new home became short-lived.

Sharon Spielman Ashcraft


Wife of 3rd Great-Grandson of Joel and Patsey Ashcraft


February 2007

Notes: Most of the counties in South Carolina became judicial districts in 1800; in 1868 all of the existing districts once again became known as counties.

In the 1850s, the Wylies, McCulloughs, Byrds, and McElhenneys were close neighbors of the Ashcrafts in the Chester district of South Carolina.

Joel and Patsey's daughter, Ruth, married William B. Isom sometime between 1850 and 1860 and left South Carolina by 1880. Martha, another daughter, is believed to have married a David Mann and may have gone to Cleveland County, Arkansas via Mississippi in the latter part of the 1860s.

The time frame of the departures from South Carolina is based primarily on the years and places of births recorded in census records. Historical articles combined with imagination laid the groundwork for the reasons the Ashcrafts left South Carolina. A biographical sketch of Wm. L. Ashcraft gives the year 1853 as the time the first Ashcrafts arrived in Arkansas.

Reference: Southern Baptist Newspaper (published Charleston SC 1847-1860), issue dated 25 July 1855; Federal Bureau of Land Management patent records; Biographical and Historical Memoirs of Southern Arkansas, Copyright 1890, published by The Goodspeed Publishing Co.; Chicago, Nashville and St. Louis.

Ashcraft Land Patents

Cleveland County, Arkansas

1857-1861

The following is the chronological order in which Jesse, the younger son of John and Rebecca Ashcraft, two of his sons, five of his nephews, and Jackson Chambers who married Jesse's niece, Rebecca, patented land in Cleveland County, Arkansas:

1857 – 01 December William Leroy Ashcraft, son of Joel and Patsey (Ferguson) Ashcraft

1859 – 01 June Jesse Ashcraft, son of John and Rebecca Ashcraft

Jonathan Alexander Ashcraft, son of Joel and Patsey (Ferguson) Ashcraft

Andrew Jackson Chambers, son-in-law of Joel and Patsey (Ferguson) Ashcraft

1860 – 02 April Uriah Ashcraft, son of Joel and Patsey (Ferguson) Ashcraft

1860 – 02 July William Leroy Ashcraft, son of Joel and Patsey (Ferguson) Ashcraft

Jesse Ashcraft, son of John and Rebecca Ashcraft

James Leon Ashcraft, son of Jesse and Sarah (McClellan) Ashcraft

Thomas A. Ashcraft, son of Jesse and Sarah (McClellan) Ashcraft

1860 – 01 October Thomas A. Ashcraft, son of Jesse and Sarah (McClellan) Ashcraft

James Leonard Ashcraft, son of Joel and Patsey (Ferguson) Ashcraft

Andrew Jackson Chambers, son-in-law of Joel and Patsey (Ferguson) Ashcraft

1861 – 01 April William Leroy Ashcraft, son of Joel and Patsey (Ferguson) Ashcraft

Thomas Kelsey Ashcraft, son of Joel and Patsey (Ferguson) Ashcraft

Jesse Ashcraft

Younger brother of Joel Ashcraft

These are the land patents of Jesse Ashcraft and two of his sons:

1859 – 01 June Jesse Ashcraft 80 acres Section 18 Township 10S Range 9W

1860 – 02 July Jesse Ashcraft 222 acres Section 18 Township 10S Range 9W

James Leon Ashcraft 120 acres Section 18 Township 10S Range 9W

Thomas A. Ashcraft 160 acres Section 19 Township 10S Range 9W

1860 – 01 October Thomas A. Ashcraft 160 acres Section 19 Township 10S Range 9W
LIST OF INDIGENT FAMILIES OF CONFEDERATE SOLDIERS
FREEDMAN'S BUREAU RECORDS (FIELD OFFICE RECORDS, MONTICELLO, ARKANSAS)
HURRICANE TOWNSHIP

SOLDIER'S NAME

REGIMENT

STATUS

FAMILY MEMBER

RELATION

CHILDREN
Ashcraft, James

1st AR.

Ser.

Sarah Jane

Wife

3

Ashcraft, Jonathan

3rd AR.

Ser.

Sarah

Wife

3

Ashcraft, Thomas

3rd AR.

Ser.

Mary

Wife

2

Ashcraft, Thomas

Crawfords

Ser.

Margaret

Wife

2
1. James is James Leon, son of Jesse. James' wife is Sarah Jane Byrd. James Leon died of disease in 1863 at a prison camp near Little Rock, Arkansas.
2. Jonathan is Jonathan Alexander, son of Jesse's brother, Joel. Jonathan's wife is Sarah Dorcus Isom. Jonathan was captured at Longview, Arkansas in 1864, refused to take the Oath of Allegiance to the United States government, and was imprisoned until a prisoner exchange occurred in 1865 just prior to the official end of the war.
3. The 1st Thomas Ashcraft is Thomas Kelsey, brother of Jonathan and son of Joel. His wife is Mary C. Ferguson. Thomas enlisted with the Confederacy as 5th sergeant but was reduced to ranks several months later. He took the Oath of Allegiance to the United States government in 1864 and returned home to Bradley (now Cleveland) County.
4. The 2nd Thomas Ashcraft is Thomas A., son of Jesse and brother of James Leon. His wife is Margaret A. Patrick. Thomas enlisted in the Confederate Army in 1862, was reported Absent Without Leave in August of 1863, and took the Union's Oath of Allegiance in September of that year.
The Demise of My Great-Great-Grandfather
Morten Ashcraft

Artist unknown.

The drawing above shows a keelboat much like the one John "Morten" Ashcraft was on when he drowned in the swollen Saline River sometime between 1852 and 1860. His body was found three weeks later in a floating drift of river debris. The reason he was aboard the keelboat is not known, but as hard as people had to work in that era, it was probably not for pleasure

Keelboats were used on area rivers and large streams to transport items for sale or trade. Originally, the keelboats were designed to travel downstream only. They were dismantled after reaching their destination, the wood was sold, and the boats' handlers walked back home. Neither practical nor economically feasible, dismantling soon gave way to the use of long poles to the river bottom and towlines from the shore to navigate the boats back upstream. Hides, flour, meal, salt, cotton and barrel staves were taken south; cane syrup, sugar, coffee, and lead were brought back upstream.

Morten, as he was called, was one of my two Ashcraft great-great-grandfathers. His older daughter - my great-grandmother, Nancy - married my great-grandfather, William Columbus Ashcraft, son of James "Leonard" Ashcraft. Morten and Leonard were brothers and sons of Joel Ashcraft and "Patsey" Ferguson. The fate of Morten was determined from his daughter Nancy's hand-me-down tale of her father's "drowning in a swollen river or creek" as printed in the Petit Jean Country Headlight in 1986 and from a biography of her sister Rebecca's husband, William K. Varnell, found in Biographical and Historical Memoirs Of Southern Arkansas, 1890, which mentions the keelboat, the Saline River and the time of Morten's death.

(Note: Nancy, born 1848, and Rebecca, born 1852, may have been half sisters; no mother is shown on the 1850 census.)

- Norman V. Ashcraft, December 2006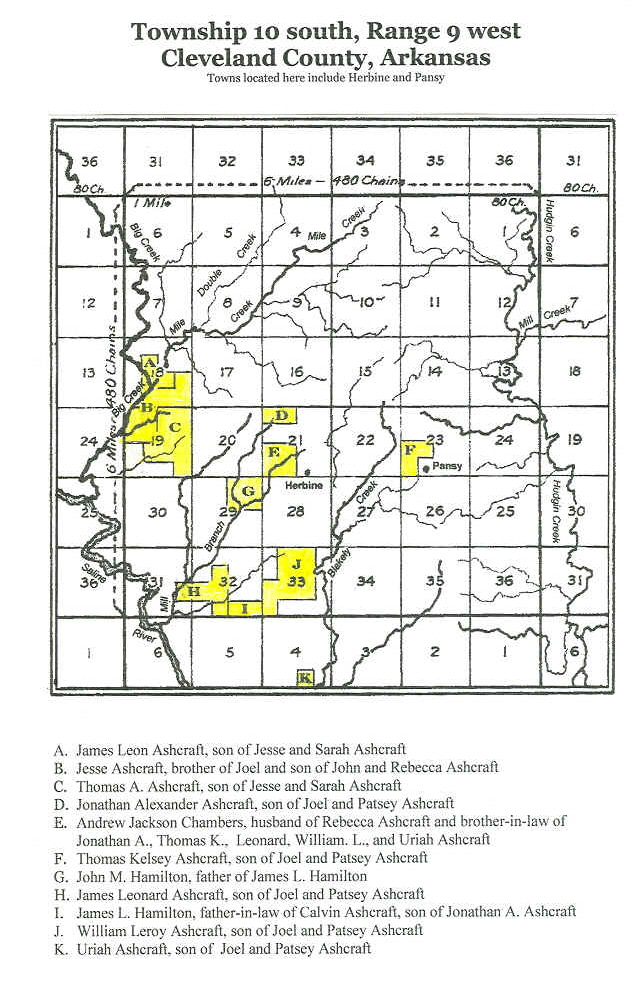 Map of Present-Day
Cleveland County, Arkansas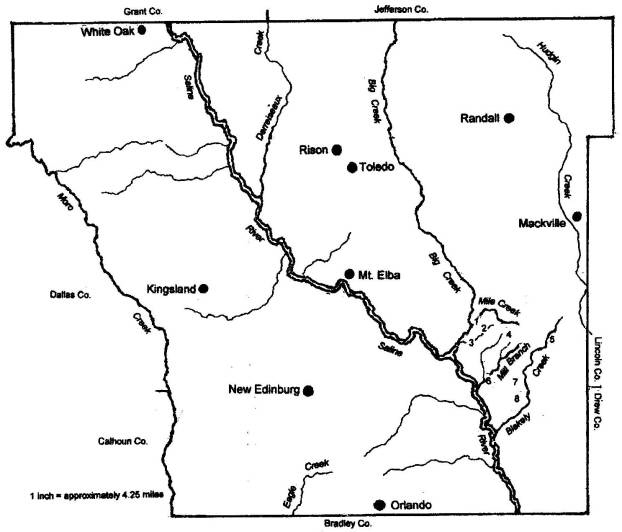 The area where the descendants
of John and Rebecca Ashcraft settled in the 1850s was, at the time, part of Bradley County.
The towns shown on the map above have been indicated in order to determine the location of the land the Ashcraft pioneers settled. Most of the towns were non-existent in the mid-1850s. Two exceptions are Mount Elba and New Edinburg; they were known as settlements as early as 1834 and 1835 respectively.
The lands the Ashcrafts patented are indicated numerically on the map east of the Saline River to the southeast of Mount Elba. The numbers show the location where each individual lived. They are as follows:
1. Jesse Ashcraft 2. James Leon Ashcraft 3. Thomas A. Ashcraft
4. Jonathan Ashcraft 5. Thomas K. Ashcraft 6. Jms. Leonard Ashcraft
7. William L. Ashcraft 8. Uriah Ashcraft