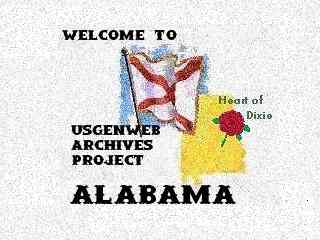 RUSSELL COUNTY
FORT MITCHELL PICTURES
*** USGenWeb is not a commercial enterprise and information found on these pages is freely available to the public.
Please take time to read the Copyright Information at the bottom of this page. ***
---
HELP US!!!
If you have Alabama files you'd like to contribute to the Archives site,
Click here or here to transcribe and send in your records
or contact The USGenWeb Archive Project -Alabama File Manager
ONLY data in the public domain (i.e. public records, bible records, etc.) MAY be used.
Copyrighted materials are NOT acceptable as donations without the EXPRESS WRITTEN PERMISSION of the author(s).
Please, send files in .txt format. Be sure to follow the Archives Guidelines andif you need help, see Help for Submitters
SORRY, BUT THE ALABAMA FILE MANAGERS CANNOT HELP YOU WITH PERSONAL RESEARCH
WE DO NOT LIVE IN ALABAMA AND HAVE NO ACCESS TO ANY RECORDS FOR RUSSELL COUNTY
---
Search Russell County, AL
[ Know the town, but not the county? Find the County Here! ]
---
Fort Mitchell Pictures
The following photos were taken by Keith Howell who owns the copyright.
DO NOT DOWNLOAD without permission from Keith.
Photos submitted May 2004
Descirption
Asbury School & Mission at Fort Mitchell
, Historical Marker
1832 Census, Creek Nation, the Lower Towns
, Historical Marker

2nd Marker
The Creek Trail of Tears, Historical Marker
Crowell-Whitaker 1840 Log Cabin
, Marker

Cabin
Fort Mitchell
Photo 1
Photo 2
Photo 3, Historical Marker
Photo 4, Historical Marker
Photo 5, Historical Marker
Photo 6
Photo 7, Stockade
Indian Ball Ground,
Historical Marker
Southeastern Indians
, Historical Marker
Maj. Timpoochee Barnard
, Yuchi Leader (Tombstone?)
Tom Carr
, Indian Trader (Tombstone?)
Daniel McGillivray
, Sgt with CPT Seale (Tombstone?)
John Ward,
1813, Indian Interpreter (Tombstone?)
USGenWeb Archives Project - Russell County, Alabama Table of Contents
USGenWeb Archives Project - Alabama Main Table of Contents
ALGenWeb Project - Russell County Homepage
Table of Contents maintained by:
The USGenWeb Archive Project - Alabama File Manager
COPYRIGHT NOTICE
All materials contained on these pages are furnished for the free use of those engaged researching their family origins. Any commercial use, or, electronic publishing on another site without the consent of the host/author of these pages is prohibited. All images used on these pages were obtained from sources permitting free distribution, or generated by the author, and are subject to the same restrictions/permissions. All persons contributing material for posting on these pages does so in recognition of their free, non-commercial distribution, and further, is responsible to assure that no copyright is violated by their submission.

Thanks to Rootsweb for providing space for this site
and to the volunteers who sponsor the counties and everyone who has donated files to the site.
Updated: - - Wednesday, 11-Jun-2008 15:58:33 EDT