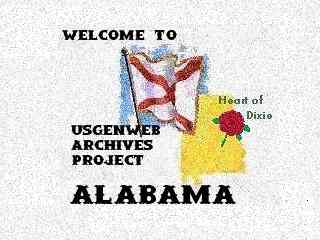 The USGenWeb Archives Project - Alabama
LOWNDES COUNTY
TOMBSTONE PHOTOS
STONE CEMETERY
*** USGenWeb is not a commercial enterprise and information found on these pages is freely available to the public. Please take time to read the Copyright Information at the bottom of this page. ***
---
*** USGenWeb is not a commercial enterprise and information found on these pages is freely available to the public. ***
---
HELP US!!!
If you have Alabama files you'd like to contribute to the Archives site,
Click here or here transcribe and send in your records or photos or contact:
SORRY, BUT THE ALABAMA FILE MANAGERS CANNOT HELP YOU WITH PERSONAL RESEARCH WE DO NOT LIVE IN ALABAMA AND HAVE NO ACCESS TO ANY RECORDS
---
Search Selected Records in the USGenWeb Archives Project - Alabama
---
Email Registry For Contributors

Any time you see this symbol next to a name, they have registered their e-mail address at
The Registry.
This will be their current address.
---
Stone Cemetery Photos
Photos were taken by Robert Graves and Beth Meriwether
Photos were submitted by Beth Meriwether.
Genealogical information was added by Carolyn Golowka and Beth Meriwether
This information came from Bible, census, and marriage records and is in parenthesis ( ).
This family cemetery is a fairly large one and is surrounded by a brick wall (this photo) that is at least 5' high.

This is Magnolia Crest, the home of Warren Stone. This house was probably
built in the early 1820s as he came to Alabama from GA about 1818. The
cemetery is located about 200 yards east of the house and near the road.
Just past the cemetery on the opposite side of the road is a beautiful chapel
that was a private church belonging Warren Stone. It looks like it would
hold 100-150 people. The Stone's were very devout Methodists and
son John Henley Stone was a lay Methodist minister.


Chapel on the Grounds of the Warren Stone Plantation and Cemetery that belonged to him.
It is very hard to appreciate the size of the cemetery by any of these
photos. Some of these gravestones are so massive that the wealth of this
family is quite obvious but the stones for Warren & Martha are quite modest.

The underlined names have links to the photo for that particular person.

The USGenWeb Archives Project - Lowndes County, Alabama Cemetery Transcription Records
The USGenWeb Archives Project - Lowndes County, Alabama Cemetery Topmbstone Photos
The USGenWeb Archives Project - Alabama Cemetery Table of Contents
The USGenWeb Tombstone Project - Lowndes County, Alabama
The USGenWeb Archives Project - Lowndes County, Alabama Table of contents
The USGenWeb Archives Project - Alabama Main Table of Contents
The ALGenWeb Project - Lowndes County Homepage

Table of Contents maintained by:
The USGenWeb Archive Project - Alabama File Manager
Copyright © 1997 - 2023 The USGenWeb Archives Project
Updated: - - Friday, 25-Feb-2022 16:07:32 EST